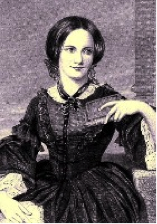 Most people who know anything about English literature will have heard of the Brontë sisters.  Charlotte, Emily and Anne all wrote novels and poetry and their combined output is safely ensconced amongst the classics of literature, having been read for pleasure or studied as set books by readers and students the world over.  Their former family home in Haworth, West Yorkshire has been a place of pilgrimage for a long time and, no doubt, will continue to be so. While her older sisters have had more than their share of the limelight it should not be forgotten that Anne was also an accomplished writer using a more direct and much less romantic style than Charlotte and Emily.
The origins of the family name are certainly worth a brief mention.  The father, Patrick, was born the son of poor peasant farmers in 1771 in County Down.  The proper Irish family surname was mac Aedh Ó Proinntigh  but this was "Anglicised" to Prunty, and sometimes Brunty.  Patrick managed to climb out of the poverty trap and studied Theology at Cambridge and he soon dropped the Brunty name for something that sounded a little grander – hence Brontë.
Anne Brontë was born in 1820 and spent the majority of her life at The Parsonage, the family home in Haworth.  Her parents were reasonably comfortable by this time – father an Anglican minister and mother coming from a successful business family in Cornwall.  She did become a governess for six years between 1839 and 1845 and one of her novels was based on her experience of this life – Agnes Grey was published in 1847.  A year later she produced her second and last novel – The Tenant of Wildfell Hall.  Tragically, within a year of this, Anne was dead.
Anne lost her mother when she was only a year old to cancer and the girls were brought up by their father and their mother's sister Elizabeth Branwell.  She was a strict Aunt although she did favour Anne ahead of the other two girls.  At the age of five yet more tragedy befell the family with the death of the two older girls – Maria and Elizabeth – leaving only Charlotte, Emily and Anne.  They were educated, mostly, at home and had little social contact with other children.  The bleak moors around Haworth were a grim place to grow up but their education was full and included music, drawing and literature.
The children did attend school later on though and Anne's two years at Roe Head School were characterised by a determination to learn enough to support herself when she was old enough.  She secured a teaching position at the age of 18 with the Ingham family at Blake Hall, near Mirfield in West Yorkshire.  Alas it was an unsuccessful venture and was cut short a year later.  She tried another Governess post with a different family and, although difficult at first, it was a success eventually.
In 1845 the sisters hatched a plan to publish a collection of their own poems but to do so using pseudonyms.  Poems by Currer, Ellis, and Acton Bell was not a success but Anne was determined to press on with getting her work published and she used Fraser's Magazine as an outlet for two of her poems – The Narrow Way and The Three Guides, still using the name Acton Bell.  Her book Agnes Grey was more successful, though very much overshadowed by her sisters' efforts – Jane Eyre and Wuthering Heights.  She followed it though with The Tenant of Wildfell Hall, and this was a roaring success.
This was a time though of rampaging tuberculosis and tragedy was soon to decimate the whole family.  The three girls were on the cusp of a great literary career but it was all cut tragically short.  Firstly their brother Branwell died at the age of 31, in 1848.  He suffered chronic bronchitis along with tuberculosis.  In December of the same year Emily was also struck down, aged only 30.
Anne had been so close to her sister that Emily's sudden death was a hammer blow to her own health and within a few short months she became terminally ill.  At this time she wrote her last poem Last Lines.  She took a trip to York and Scarborough with Charlotte and a friend, hoping the sea air might improve her health.  Unfortunately it didn't and Anne Brontë died peacefully in May 1849, aged only 29, of pulmonary tuberculosis.  Her final poem was written with death close by and shows her calm acceptance of her fate.  Here are the opening and closing verses of this poem: