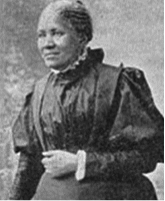 Frances Ellen Watkins Harper was a free-born African-American poet and novelist who, during the 19th century, was a leading light in the "Underground Railroad". This was a network of routes, safe houses and people sympathetic to the plight of fleeing slaves. She worked alongside William Still of the Pennsylvania Abolition Society to help fugitives across the border to British North America (now known as Canada). She was an inspirational figure and an activist with the mid-1850s American Anti-Slavery Society.
She was born Frances Ellen Watkins on the 24th September 1825 Baltimore, Maryland into a family of former slaves, now free. Frances was well educated and had a talent for writing from an early age. Her first collection of poetry was published when she was 20 years old under the title Forest Leaves. By the time she published Poems on Miscellaneous Subjects in 1854 her name was well known and her poetry had achieved great popularity. Five years later she became the first black woman to have a short story published when The Two Offers appeared in the Anglo-African Magazine.
Encouraged by these successes she produced a steady output of poetry and short stories over the following years but she also branched out into novels and one, Shadows Uplifted, became probably her most famous piece of work when published in 1892. It told the story of a mixed-race woman called Iola Leroy who ends up kidnapped and enslaved after losing her white father's protection following his death. At the time it was thought that this was the first novel written by an African American but evidence later proved that other work by William Wells Brown and Harriet E Wilson superseded Harper's.
All of her own driving forces were in the leading character of this book which portrayed a woman struggling with the terrible social issues of those times. Apart from those in slavery, women were very much oppressed by men both socially and politically. She saw an urgent need to promote education and equality for women and had some success with this, concentrating very much on the plight of black women. She toured the southern states and chronicled her findings in her 1872 book Sketches of Southern Life. Here were the stories, written in verse, of the many freed black people and the harsh conditions that they had to endure while trying to establish themselves in a difficult environment.
Harper wrote many poems about slaves and slavery and one of her most poignant was The Slave Market which describes the terrors endured by those about to be traded like livestock and the anguish of mothers seeing their dear children being bartered for a handful of gold. The poem is reproduced here: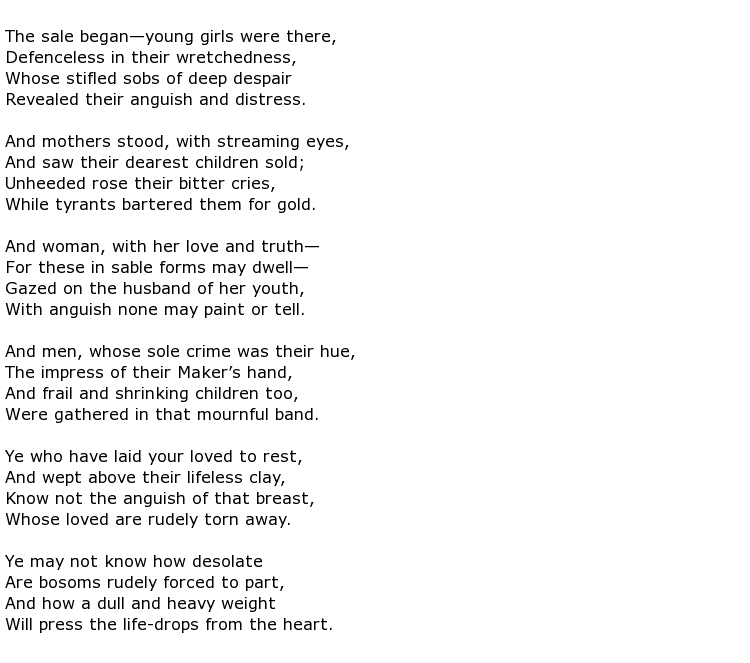 Harper's efforts on behalf of freed slaves earned her appointments to a number of high-profile positions. A good example was her vice-presidency of the National Association of Coloured Women, an organisation that she helped to found in 1894. She worked tirelessly throughout her life, either through writing or political campaigning, especially for the rights of women. It was ironic that she died a few years before women won the right to vote in elections.
Frances Ellen Watkins Harper died on the 22nd February 1911 at the age of 85.