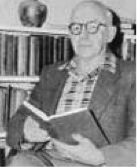 Frank Dalby Davison was an Australian writer who was born right at the end of the 19th century and whose literary output included poetry, short stories and novels, many of which were about the pioneers who made the country and the diverse animal life that lived there. He is sometimes referred to in his work as "Freddie" Davison, F. D. Davison or Frank Dalby although he used a number of other pseudonyms at different times.
He was born Frederick Douglas Davison on the 23rd June 1893 in Hawthorn, Victoria, the son of a literary man who was also a printer, journalist and land owner. He only received a rudimentary education, leaving the Caulfield State School at the age of 12, before being set to work on the family land. Four years later though they all emigrated to America. Frederick start to learn the printing trade while writing in his spare time. He spent the next few years, leading up to the outbreak of the First World War, travelling around the States and the West Indies but, in 1914, he decided to go to England to enlist into the Army.
While training to be an officer he met and married Kay Ede and they had two children. Safely through the hostilities, Davison took his family to Australia and tried his hand at farming in Queensland. This venture failed and, by 1923, they were on the move again, this time to Sydney. He found work in real estate and as an advertising manager on two separate magazines, both of which were owned by his father. He had ambitions to be a writer though and, at a time when much of the world was suffering from financial depression, he wrote an award-winning novel called Man-shy. This book had, at first, been serialised in the Australian magazine during the 1920s but he managed to get it published in book form in 1931.
Other books followed, including a novel called Children of the Dark People and then he collected some of his short stories under the title The Woman at the Mill. His work was recognised even more after he became an active member of the Fellowship of Australian Writers but a romantic liaison with a fellow member put an intolerable strain on his already unstable marriage, leading to divorce. He remarried during the early 1940s.
Davison's writing covered a wide range of themes. While there was much evidence of the glories of the natural world in there he also introduced the tensions and emotions felt between men and women, especially in their sexual relationships, into a number of his short stories and at least one of his novels. An enigmatic poem called Children of the Mist mourns the loss of children gone away, never to return and this could have been a reference to all of those young men who left their homes and didn't survive the horrors of war. Here are the opening verses to this poem: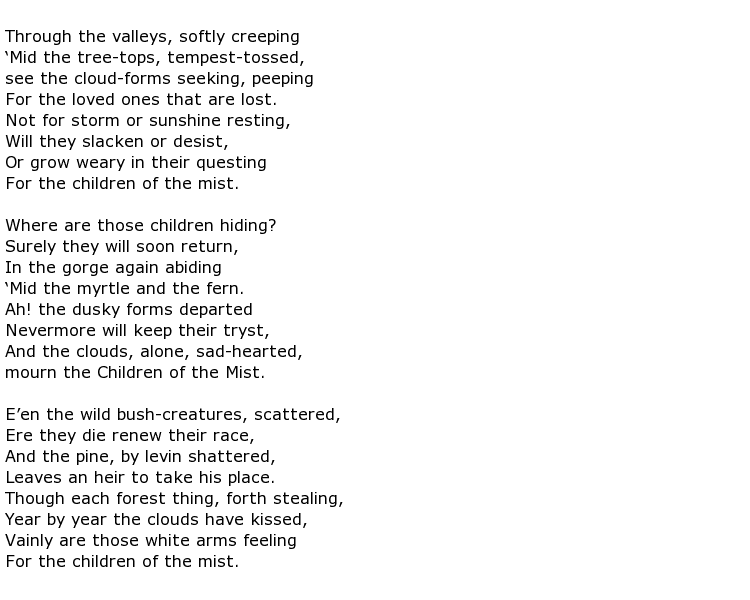 Throughout his life Davison moved in diverse literary circles, enjoying close friendships and working relationships with the likes of Vance and Nettie Palmer, Flora Eldershaw and Marjorie Barnard. With the latter pair he collaborated on a great deal of work concerning literary censorship and civil liberties. One of his novels, Dusty, was adapted for a 1983 movie.
Frank Dalby Davison died in Melbourne on the 24th May 1970 at the age of 76.