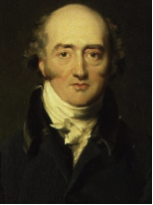 George Canning, PC, FRS was an English poet whose literary achievements were overshadowed by his status as a great Tory politician and statesman. He held a number of Cabinet positions and then, during the final months of his life, he briefly served as Prime Minister. He was a powerful speaker in both the House of Commons and outside who, reputedly, reduced a fellow politician, the future Prime Minister Lord Liverpool, to tears as he movingly recited a long poem.
He was born on the 11th April 1770 in the Marylebone district of west London. He came from an Anglo-Irish family and his father was a lawyer, but not a successful one. He abandoned the family when George was in his infancy and his mother, an actress, was forced to seek out stage work to survive. Money was, understandably, tight and it was only with the help of a wealthy uncle that George was able to go to a decent school. This relative, his Uncle Stratford Canning, became his guardian. George's education began at Hyde Abbey School in Winchester, Hampshire and then he was sent to the prestigious Eton College. He excelled there as a brilliant orator and student of the classics.
He then went up to Christ Church College, Oxford and was well known for his literary prowess. He won a prize for a Latin poem called The Pilgrimage to Mecca, reciting it to the audience at the Oxford Theatre. Fellow students there included future authors such as John Hookham Frere and Robert Jenkinson, who would become the 2nd Earl of Liverpool and Prime Minister of Great Britain.
Canning achieved a Bachelors' degree in 1791 and, initially became a lawyer but he had political ambitions. The year 1793 was the start of his inexorable rise. After a number of important government roles he was appointed Foreign Secretary in 1807. Over the coming years his influence on foreign policy was considerable, especially in South American affairs, his work making a major contribution to the success of British foreign trade. He also worked towards ensuring that captured West Indian islands such as Trinidad, previously occupied by the Spanish, were cultivated and populated in a sensitive manner as opposed to simply flooding the islands with black slaves.
Canning never forgot his literary skills despite his success as a politician. His poetic output, however, was fairly modest and some of it was set to music. A good example was a piece called The Pilot that Weathered the Storm which was written to celebrate the birthday of his good friend and political colleague William Pitt in 1802, and performed by a Drury Lane theatre tenor at a dinner in Pitt's honour. It has nautical references but it clearly refers to the subject's skill as a great Prime Minister guiding his country through stormy seas. Here is the poem: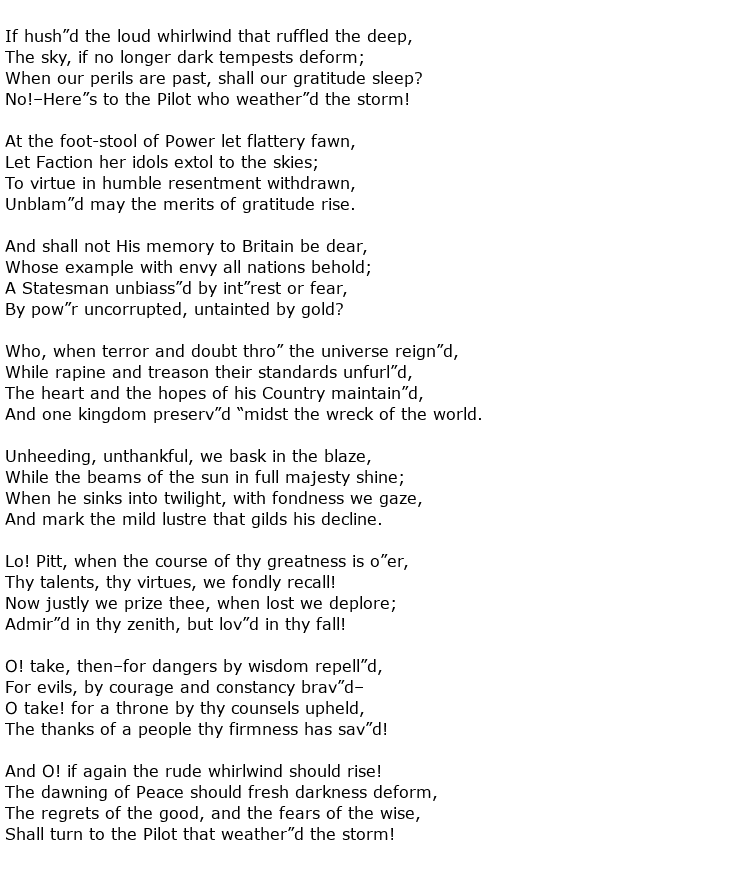 Canning always believed that he would rise to the top in politics and finally, in April 1827, he was appointed Prime Minister. Tragically though it turned out to the shortest tenure of any British Prime Minister in history – just 119 days. Attending an evening funeral, held in a bitterly cold chapel, he caught a chill and fell dangerously ill. His health did not recover.
George Canning died on the 8th August 1827 at the age of 57.