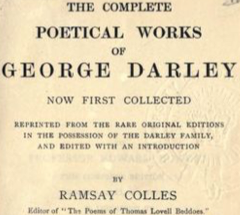 George Darley was an Irish poet, mathematician, novelist, playwright and critic.
He was born sometime during the year 1795 in Dublin into very comfortable circumstances.  The family were connected by marriage to the Guinness brewing dynasty and were of sufficient financial means to own a house in the country, in County Wicklow.  Darley spent most of his early years there and went to school locally.  He went on to Trinity College, Dublin to take a degree course, graduating with a BA in mathematics and classics in 1820.
His first choice of career was as a writer and he moved to London in 1821 hoping to further that ambition.  His early poems and plays did not get him the recognition that he craved and, at first, he had more success writing literary critiques.  His first published poem was called Errors of Ecstasie and was first seen in 1822.  He found a ready outlet for his work in the London Magazine, a publication which took both his poems and short stories.  He usually wrote under the pseudonym John Lacy and a piece of work that became, his best known story appeared here.  The American writer Edgar Allan Poe declared himself very impressed with Lilian of the Vale.
His primary source of income at this time came from the writing of a series of mathematical texts which were published under the title Darley"s Scientific Library.  He persevered with his literary work though and, in 1827, he had a book published called Sylvia, or The May Queen, a poem, described as a lyrical drama.  His career as a literary critic really took off when he joined the staff of a magazine called the Athenaeum.  He wrote scathing pieces on many famous poets of the day, including Shelley, Byron and Keats.  He described the work of William Wordsworth as "insipid" and called Lord Byron "Lord Lucifer".  Darley tried so hard to produce poetry that was as far from that produced by these men as possible but was constantly disappointed with the lack of acclaim that he received.  In later life he suffered many bouts of depression because of these struggles.
One of his rare successes was a poem called I"ve been Roaming which was set to music and turned into a popular song in 1826.  It was praised by many, including the writer Samuel T Coleridge.  Ironically though it was published under another of his pseudonyms – Guy Penseval.  A much more serious piece was the tragic tale of Nepenthe which is described as a poem in two cantos, and an extract from this long piece of work is reproduced here: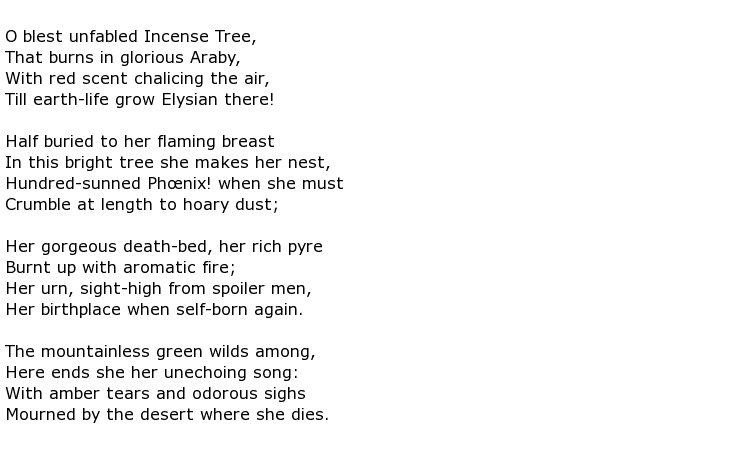 Darley did not frequent the literary salons that many of his fellow writers did, preferring his own company much of the time.  He did have friends, but only very few, and his lack of success as a poet weighed heavily on his mind.  It is possible that a disjointed upbringing was to blame for affecting his self-confidence.  He had developed a severe speech impediment by the age of four and he grew up a shy young man, not even coming out of his shell in the company of fellow students at Trinity.
In some quarters he was described as the "Irish Keats" and he had admirers amongst other writers such as Alfred, Lord Tennyson and Charles Lamb.  Ultimately he was generally observed to be a failure as a poet, a fact that Darley himself agreed with.  His slump into depression will have been caused by his frustrations and lack of recognition as a serious writer.
George Darley died in London on the 23rd November 1846 at the age of 51.