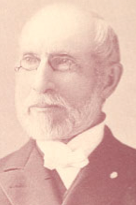 George Frederick Root was a 19th century American poet, musician and educator whose stirring verse was much enjoyed around the American Civil War, when it was turned into stirring battle songs.  Good examples of these were



He was born on the 30th August 1820 into a farming community in Sheffield, Massachusetts.  His parents named him after the composer Handel so it seemed clear that they had a musical future mapped out for their new son.  It is assumed that he had some kind of rudimentary local education before, with skills as a keyboardist and flautist already under his belt, he headed off to Boston at the age of 18 to study at Mason's Boston Academy of Music under a man called Lowell Mason.  Mason is credited with the founding of pedagogical methods of curricular music teaching in American public schools.
Sometime during the mid-1840s Root left Boston at the conclusion of his studies, heading for New York City.  He secured a position at the New York Institute for the Blind, teaching music, and here he began to collaborate with Fanny Crosby, the so-called



This was a very talented lady who had been blind since birth and, between them, they composed over 50 popular secular songs.
Besides being a prolific writer of verse, Root was also a pioneering music publisher and teacher and he was one of those credited with the development of mid- to late-19th century musical education in the United States.  He toured Europe and, at one time, adopted the German name for Root (Wurzel) as a pseudonym, the reason being that he wanted to capitalise on the current success of other famous German composers.  Some of his songs were of the popular variety but many were religious in tone.  He had particular success in America and in Europe with his secular cantatas, a popular example of this being one called The Haymakers, published in 1854.
He really came to prominence though after a move to Chicago in 1859.  He worked there for a publishing company called Root and Cady, run by his brother.  As the Civil War broke out he began composing verses almost immediately.  It is believed that a song about the war came from his pen, titled



a rousing ditty playing on the religious as well as patriotic fervour of all those who read or sang it.  Here is the opening verse and the chorus: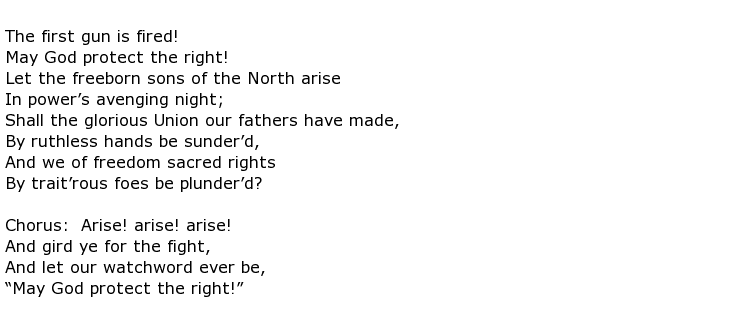 Root was the most prolific of war-time song writers with over thirty titles to his name.  His sometimes ethereal, often rousing poetry and music was popular amongst soldiers on the Unionist side and was even heard in England.  Songs like



were sung with joy and soldiers said that the messages in those compositions often inspired them and lifted their spirits ahead of battle.
He was honoured after the war with an honorary 3rd class degree



and, in 1872, he was awarded a Musical Doctor degree by Chicago's university.
George Frederick Root died on the 6th August 1895 at his home for the summers in Maine.  He was 74 years old.