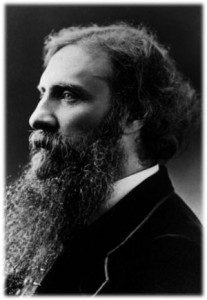 Fantasy writer and poet George MacDonald was born Aberdeenshire in 1824 and was considered a strong influence on such literary greats as Lewis Carroll and J.R.R. Tolkien. From strong farming stock, MacDonald grew up in a staunchly Calvinist atmosphere, and, although he disagreed with its doctrines, it is something that influenced his writings and convinced him to become a minister for a short while in later life.
He studied for a degree in Moral Philosophies at Aberdeen and then moved to London to further his education. After a short period as a pastor, where his liberal views came under unwanted scrutiny, he left to teach at university and began to forge a career as a writer. He is probably more well known for his fantasy novels and fairy stories, such as Phantastes and The Golden Key, than his poetry, but he was a prolific writer, acting at one time as a mentor to Lewis Carroll and convincing him to submit Alice for publication.
His own first published work was a religious poem in 1855, Within and Without, a book length exploration of his liberal views on how we should face God and spirituality. It won him many admirers, among them Tennyson and Lady Byron. Whilst on the surface it is a story of lovers who are separated, it is in fact a metaphor for the soul's search for God, something that underpins a large part of MacDonald's poetry and prose.

The main work that defined his writing career appeared a couple of years later with the publication of Phantastes. It brought him moderate success as did many of his other books over the years. He had, by then, a large family to support and often struggled to provide for them. He often relied on support from kindly beneficiaries such as Lady Byron.
MacDonald's works are not just forays into the world of fantasy but strong assertions of his liberal religious views and like many of his time he was concerned about capitalism and the rise of industrialization. Over his lifetime he wrote close to fifty works of fiction for children and adults. He became so well known that in 1870 he was invited to tour and lecture the United States and rubbed shoulders with such luminaries as Emerson and Twain.
He was asked to stay on but decided to return to his family. He was, at the time, in poor health, having contracted consumption at a young age, a disease which plagued him throughout his life. In 1877 he received a civil pension of £100 and settled in Bordighera in Italy and spent 20 years there writing nearly half of his literary works, including many poems.

In 1895 he produced one of his last and perhaps darkest works in Lilith that explores the power of the imagination and the importance of dreams. He believed that God could be found in the unconscious mind and that art is the only true path to discovering Him. It was a radical view in a time when rationalism was so popular and not to be challenged.
In 1900 he returned to London, suffering from ill health, and died five years later at the age of 80.