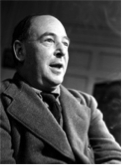 The first thing that generally springs to mind when considering the great English writer C. S. Lewis is his epic collection of fantasy tales The Chronicles of Narnia. This was actually seven separate stories which can be bought in one bound collection and it probably sits on bookshelves in most houses – particularly if there are children in the house. It is reported that these books have topped the 100 million mark in sales and, so popular are the stories, they have been turned into three major films. Seen all around the world, these movies can only enhance the writer's appeal and there is no sign of that diminishing in any way despite the fact that he has been dead for over 50 years.
His writing output went much further than that of course. He wrote in excess of 30 books of both prose and poetry and his appeal spans the generations. He was born Clive Staples Lewis in 1898, in the city of Belfast, Northern Ireland although as he grew up he was generally known amongst friends and family by the name 'Jack'. Aged only 10 he was sent to school in Hertfordshire following the death of his mother and although he returned to Ireland for a short time he soon resumed his studies in England, winning a scholarship to University College, Oxford in 1916. His education was interrupted by his enlistment into the Army a year later and he saw action at the Battle of Arras where he was wounded and shortly after discharged. He was probably inspired to write the poem Death in Battle at this time, lamenting the suffering of those around him on the battlefield. Here are the final verses of this poem:


His writing output gathered pace, publishing books such as Sprits in Bondage under a pseudonym and, in 1925, Lewis was appointed to an English Fellowship at Magdalen College, Oxford where he was to start up a great friendship with J R R Tolkien. He had been going through a period of severe doubt about his religious beliefs. At one time he abandoned Christianity and became an atheist but on reconverting to Christianity in 1931 he published The Pilgrim's Regress two years later.
Throughout WWII he published a number of books, mostly on religious themes, and he was awarded an honorary Doctor of Divinity in 1946 by the University of St Andrews. The year 1950 saw the start of his great epic work Narnia and the first story in this collection was The Lion, The Witch and the Wardrobe. In each of the next six years he added another book to the collection, the final one coming out in 1956 under the title The Last Battle. Somewhat late in life he married Joy Davidman Gresham in this same year but the marriage is tragically short with the death of his wife coming only four years later – she had cancer.
He was, by now, quite rightly regarded as an intellectual giant by most people and his writings influenced and inspired many others. His works have been studied at schools and colleges worldwide and will, no doubt continue to be so.
C. S. Lewis died in 1963 only one week short of his 65th birthday. He had suffered poor health in his later years and died of renal failure.