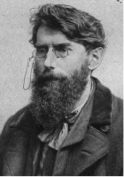 George William Russell was an Irish writer and artist, and occasional critic and magazine editor. He was heavily involved in the Irish Agricultural Organisation Society (IAOS), and served as Assistant Secretary of this organisation for a number of years. His literary talents were used by the IAOS; they made him editor of their in-house magazine Irish Homestead, a post that he held for nearly 20 years. As a writer of poetry he was usually known by the pseudonym Æ, although this is often written as AE or A.E. He also belonged to an esoteric group of Dublin-based philosophers whose discipline was known as theosophy.
Russell was born in April 1867 in the small town of Lurgan, in County Armagh. The family moved to Dublin eleven years later and the young George attended Rathmines School before going on to the Metropolitan School of Art. Here began his lifelong friendship with the famous Irish writer William Butler Yeats. Despite his obvious talents in art and literature he began his working life as a humble draper's clerk before learning of an opening with the IAOS. This was an agricultural co-operative society and its founder needed a good organiser. Russell fitted the bill admirably.
He was required to travel up and down the country as new credit societies and co-operative banks sprang up everywhere. His politics were strictly Irish Nationalist but, because of his role with the IAOS, he was not able to express his opinions too openly. He did, though, argue eloquently on behalf of the workers affected by the Dublin Lock-Out of 1913 by means of a letter to the Irish Times and a number of speeches that he delivered in England.
The cause of agricultural co-operation was certainly enhanced by Russell's tenure as editor of the Irish Homestead and he continued to apply his writing skills when the paper merged with The Irish Statesman in 1923. Seven years later though this new publication closed and Russell found himself unemployed for the first time. Having made very little money from poetry and art he could have been in financial dire straits but a generous gift of £800, raised by those who had appreciated his work with the IAOS, gave him a huge boost.
He set out for America shortly afterwards and the publicity generated there meant that his books suddenly started selling well. He had started out as a writer in 1894 when, as part of the Irish Literary Revival, he appeared to have a big future. His first volume of poems was called Homeward: Songs by the Way and was published in 1894. James Joyce was a contemporary of Russell's (they met in 1902) and it was Joyce who introduced him to W B Yeats and other literary figures. Collected Poems was published in 1913, and again in 1926.
Here is one of his poems, titled Freedom, a philosophical piece with a simple message: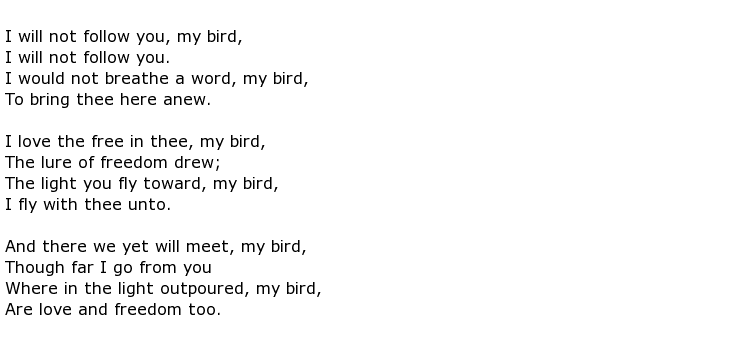 Russell was heavily involved in the whole Irish literary movement and was later credited with being "the man who was the father to three generations of Irish writers". Patrick Kavanagh called him " a great and holy man". He was a spiritual man who was always willing to offer kindness and encouragement to young writers making their way. He even claimed to have skills as a clairvoyant and some of the spirits that came to him were captured in drawings or paintings.
George William Russell died on the 17th July 1935 in the south of England. His body was returned for burial in Dublin.