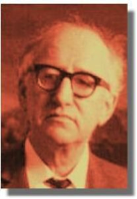 Patrick Kavanagh came into this world on the 21st October 1904 in Mucker townland, Iniskeen parish, County Monaghan. He had 9 siblings, and his parents were James Kavanagh and Bridget Quinn.  James Kavanagh made shoes and also farmed a few acres of land.  Following Patrick's schooling in Kednaminsha National School he left, at thirteen years old to work on the family farm.  He was quite sporty at a young age, playing in goal for the local Gaelic football team.  His growing up in a district that was poor led him to later comment that:

…and this tone of thinking was reflected in his writings.
Kavanagh's earliest published work was in 1928, at first in the Dundalk Democrat, a regional newspaper, but then he began to get noticed by the national daily papers.  George Russell, editor of the national newspaper the Irish Statesman, rejected Kavanagh's submissions at first but encouraged him to keep writing and eventually published several of his poems, in 1929 and 1930.  This prompted Kavanagh to walk to Dublin to meet Russell, a distance of some eighty kilometres.  There Russell gave him books by authors as diverse as Dostoyevsky and Browning and became his literary advisor and mentor.
Kavanagh's first full published work came in 1936 with his book The Ploughman and Other Poems.  This was a realistic depiction of rural life in Ireland, using genuine everyday language as spoken then, and telling the unvarnished truth about that era.  He didn't believe in offering the flowery and romantic imagery which was the preferred style at the time.  Although he eventually came to be regarded as one of Ireland's finest poets his work would often attract the attention of censors and the police.
He found it difficult to make a favourable impression for some time after this.  Literary editors of newspapers such as The Times and The Spectator damned him with faint praise by saying "he showed promise but that his poetry was enjoyable but easily forgotten".  In 1938 he travelled to London where he wrote a semi-biographical novel called The Green Fool.  Unfortunately, despite the book receiving favourable reviews from critics, it was withdrawn after he was sued for libel for an insulting comment about the wife of Oliver Gogarty, a fellow Irish poet.  Unable to find any writing work he returned to Ireland.
He settled back in Dublin where his eyes were opened to the true, as he saw it, superficial nature of the literary crowd there.  He felt that he was perceived to be a 'peasant poet' and not the fine writer he himself felt he was becoming.  In 1942 he wrote what was said by critics to be his finest work; a long poem called The Great Hunger, about the famine, deprivation and sexual anguish of Irish rural life.  The police seized every copy of the magazine in which it was published as it was considered to be an attack on the policies of the Catholic Church.  It begins:

Kavanagh's later career saw him continue to write successfully for various magazines and newspapers but his health began to deteriorate through his love of drinking whisky. In 1952 he sued one Dublin newspaper for calling him 'an alcoholic sponger' but lost his case and was shortly afterwards diagnosed with lung cancer.
In 1967 he married a lady called Kathryn Moloney but the marriage lasted a mere few months.  Kavanagh died in Dublin that same year.