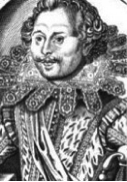 George Wither was a controversial English poet, born in the late 16th century when the country was changing in style and outlook from the perceived excessive glamour of the Elizabethan age to the more austere times under James I. He was one of those who was, on the one hand, nostalgic for the reign of Elizabeth I, but on the other hand, tended towards Republicanism in his writing and his political views. He was one of the so-called "Jacobian Spenserians", favouring "country" rather than "court" party. His satirical works often got him into trouble and he was imprisoned, usually falsely, on a number of occasions.
He was born on the 11th June 1588 in the Hampshire village of Bentworth, close to Alton. His family could trace its roots in the area back to 1344 and George was tutored privately before going onto Magdalen College in Oxford. After Oxford he attended the Inns of Chancery, and this led to an introduction to the Royal Court.  He started writing poetry in his early twenties including an elegy in 1612 following the demise of The Prince of Wales, Henry Frederick. In the following year he produced a volume of poems praising the Princess Elizabeth's wedding.
His work certainly created a stir in some circles and he was described by one George Gilfillan as:

Another critic described Withers as a writer of:

His early writings though caused enough controversy to get him into trouble. In 1613 a book  was published which contained satirical swipes which were intended to:

It was decreed that the poem The Scourge was a direct attack on the Lord Chancellor himself even though it did not mention him by name. In fact none of the poems mentioned anyone by name but Withers was still brought to account and accused of libellous actions. His arrest in March 1614 led to a four-month stretch in prison. While there he appealed directly to King James, his defence being that he had:

His appeal was written in verse form and called A Satyre: Dedicated to His Most Excellent Majestie, The verse below is called From A Satire Written To King James I and may have been that very poem: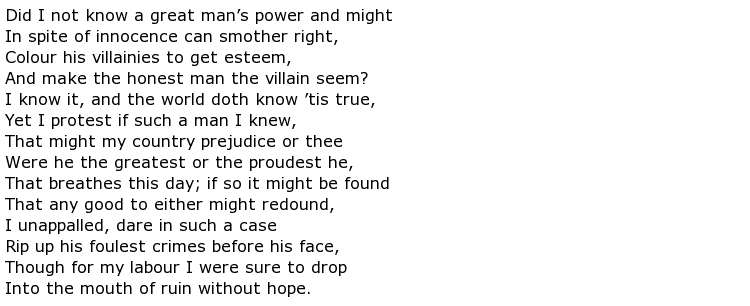 There were political accusations levelled at Withers; some said that he accused the Earl of Northampton of colluding with the Catholic Spanish government. None of this was enough to keep in prison for long though and he was soon released. He continued to write in similar vein though and some saw his writing as prophetic. Following the Great Plague of London in 1625 he wrote Britain's Remembrancer, in which denounced the wickedness seen all around him and included warnings of future disasters that England might suffer.
One of these was the Civil War and Withers found himself switching from a previous supporter of the King Charles I to the Parliamentarian side. He nearly lost his life in one incident where he was captured by Royalist soldiers but saved by the intervention of Sir John Denham who declared that:

Having sold his own estates to aid the military cause he was granted some land by Oliver Cromwell but this was later forfeited when he wrote something that was seen as open criticism of the Lord Protector.
George Wither died in London on the 2nd May 1667, aged 78.