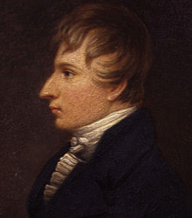 Henry Kirke White was a poet whose output of religiously themed poems, many of which were sung as hymns, is remarkable in that most of it was written while he was still a teenager.  Like many others at that time his health was poor and the onset of tuberculosis meant that he never saw his 22nd birthday.
He was born on the 21st March 1785 in the commercial district of Nottingham, to a butcher whose premises were nearby.  His father hoped that his son would follow him in that trade, but Henry was more interested in getting a decent education.  He had started his schooling at the age of three and, at seven years old, he was enrolled into the Nottingham Academy where he was able to study English, Latin and Greek. He joined the Nottingham Philosophical Society at the age of 13.
Having left school he had the opportunity to improve his Greek and Latin skills at the offices of a lawyer who said he would let him go from this employment if he could find the means to study at college.  White was writing poetry by this time and his efforts came to the attention of other writers such as Robert Southey, Capel Lofft and Robert Bloomfield.  His first published collection in 1803 was called



but it was criticised by the literary editor of the



for many controversial lines that questioned the mechanics and morals of the city.   White was encouraged though by a letter received from Southey so decided to carry on.  After a year of private tuition under the Rector of Wintringham, Lincolnshire he also managed to gain a place at St John"s College and he worked hard at his studies.
Unfortunately the great efforts that he put into this weakend his health considerably, with consumption being the main problem that he had to endure.  White was fully aware of this and even wrote poems mentioning the disease such as



and



Some have suggested that his mental health was also affected but he still managed to pen a considerable body of work as well as studying hard.  He wrote with a piety way beyond his tender years and continued to attract the attention of well-established writers.  For example, Southey said that his friend White



and Lord Byron declared that the young man "showed promise".
White's health was really poor when he wrote a hymn that is still popular today called


Some literary historians have suggested that much of his reputation was founded on the fact that he died so young, thus generating a great deal of sympathy for his plight.  There is no doubt though that he produced a good body of work, as evidenced in a book that some consider to be an autobiography of a short life.  Remains, which includes poetry and letters written by White, was edited posthumously by Southey and it ran to five volumes.  Books were written about him, such as



published in 1908, and his complete works came out in 1923.
Here is an extract from one of his best poems, the Dance of the Consumptives: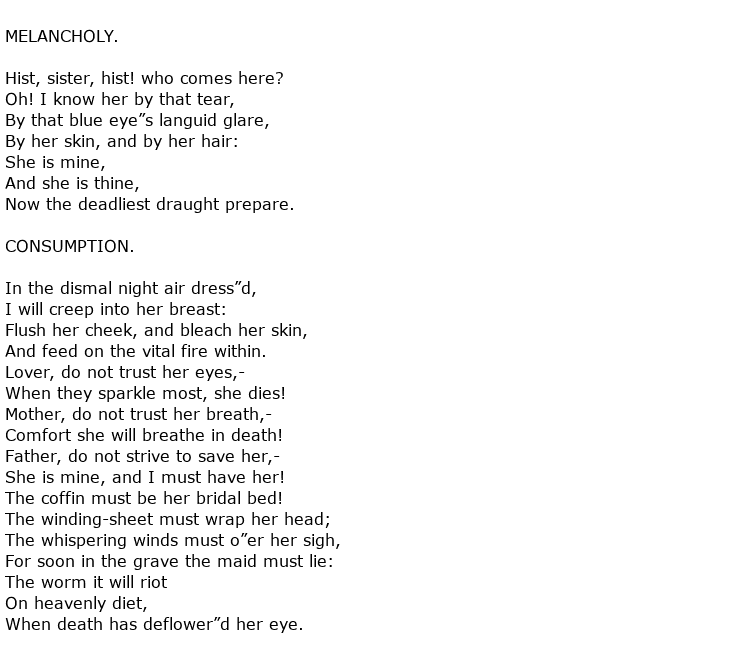 White could have become almost anything that he set his mind to, but for his poor health.  He was skilled in carpentry and music and had knowledge of astronomy, technical drawing and chemistry amongst other academic subjects.  Despite his ailments he won prizes at college as he strived hard to improve his education still further.
Alas it was all to no avail as years of suffering came to an end as he suffered from consumption, palpitations, insomnia and "shattered nerves".  Henry Kirke White died in his college room on the 19th October 1806 at the tragically young age of 21.