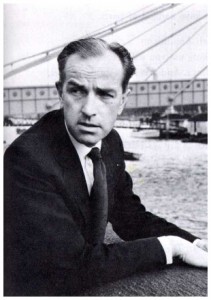 Born in 1914, Henry Reed was a prolific poet and writer, known mainly for his work Naming of Parts written during World War II when he served for a time at the cypher school at Bletchley Park. Reed was born and raised in Birmingham, initially attending King Edward VI School before attending the university and graduating with an MA. He would, in later life, mourn that fact that he never attended the more prestigious universities such as Cambridge and Oxford.
It was whilst at Birmingham University that Reed first met renowned playwright Louis MacNeice who greatly encouraged him to read and become more intellectually involved with the world. Indeed, through most of his life, Reed was a voracious reader and also had a natural ability with languages that saw him quickly learning French, German and Japanese.
When he left university he tried his hand at writing and produced a number of pieces that achieved moderate success but did not provide him with enough to live on and for a while he worked as a teacher and a part-time journalist. Whilst the experience of reading such literary greats as Tennyson and Joseph Conrad influenced his own writing, the sudden outbreak of war also had a major effect.
In 1941 Reed was drafted into Royal Ordnance Army Corp but his proficiency with languages soon marked him out for a transfer to the Foreign Office where he worked translating communications for Naval Intelligence. His period of training prompted him to write his famous Lessons of War collection including Naming of Parts, a witty take on life in the barracks where equipment was in scarce supply at the beginning of the war.

Whilst Reed spent much of his time translating Japanese communications – something which would turn him off learning and using the language for the rest of his life – he also found himself in London and made connections with the BBC. After the war, he began to work full-time for the corporation and his most famous output was undoubtedly the Hilda Tablet saga, a series of comedy plays about a composer of an all-female opera. Reed also performed in a number of plays as he had a generous amount of acting ability as well as a gift for impressions that served him well during his time at the BBC.
Although he was a prolific writer, Reed was mostly known for his single poem Naming of Parts which has found its way into many anthologies and was often broadcast over the years. He was also repeatedly confused with poet and anarchist Herbert Read who was much more well-known for his breadth of work.

It wasn't until 1991 that Reed's own work was brought together in the Collected Poems edited by John Stallworthy, a volume that highlighted the variety of verse he produced over his lifetime.
In later life, Reed took on book reviews and worked on a series of translations but would find no more great success with his poetry. He died at the age of 72 in 1986 and many of his papers are held at the University of Birmingham where he first studied.