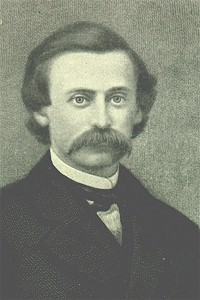 Born in 1828, Henry Timrod was an American poet who was strongly linked to the Confederate cause during the Civil War, writing many verses such as A Cry to Arms that did much to encourage men to enlist as hostilities got underway. Born in Charleston in the American South, his father was an amateur poet who ran a book binding shop that attracted a range of philosophical and literary types.
Unfortunately, Timrod's father died when Henry was just nine years old and the family home burned down leaving them without a penny. Despite this set back, he managed to get a good education at Christopher Cotes School which gave him a sound background in the classics and mathematics. It was only with the help of a local merchant that he managed to get himself into university at Georgia but illness struck and he did not complete his studies.
Back in Charleston he found work as a lawyer's clerk and it was about this time that his career in poetry began, submitting a few short poems to publications such as the Charleston Evening News. His friend from college, Paul Hamilton Hayne, decided to start a publication of his own called Russell's Magazine and Timrod provided over thirty poems in the next few years, some of it considered his best work.
Poems such as The Arctic Voyager and Praeceptor Amat show Timrod's versatility and he attracted some positive reviews but not much success at the time. In 1856, he moved to Florence in South Carolina where he took up a post teaching for a plantation owner and it was there that he first met Katie Godwin whom he would later marry. By 1860, Timrod had enough poems to put into a collection which he subsequently published without it being a resounding success.

It did, however, increase his standing as a poet and the looming prospect of civil war seemed to galvanize him even more and change the focus of his poetry. He began to write works such as Ode on Occasion of the Meeting of the Southern Congress and The Cotton Boll that were filled with patriotic fervor and influenced many men at the time to join the army and fight the Confederate cause.
As the war started, his poems have an optimistic feel about them but as the battles drag on and more lives are lost, Timrod becomes a little more melancholic with verses such as I Know Not Why. In The Unknown Dead published in 1863 he even presages the works of the First World War poets in counting the cost of those lost in the pursuit of hopeless victories.

During the war, various illnesses prevented Timrod from taking part in the savage battles between North and South and he finally returned to Columbia to become assistant editor for The South Carolinian. After the end of the war, illness continued to plague him and Timrod and his family often lived in poverty.
In 1867, at the age of just 41, he was laid low with the long standing complaint of consumption and died shortly afterwards. Timrod was buried at the Trinity Episcopal Church in Columbia, South Carolina.