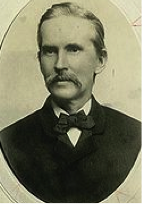 Paul Hamilton Hayne was a nineteenth-century American poet who was, perhaps, even better known for editing work done by other southern states poets such as Henry Timrod and Allen Tate. He supported Timrod both financially and professionally, especially when his friend was seriously ill with tuberculosis. Hayne showed his philanthropic nature by ensuring that Timrod's work was published. When civil war gripped America he served as a Confederate army soldier and only gave that up, in 1861, when he was too ill to continue.
He was born into comfortable family surroundings in Charleston, SC on the 1st January 1830. His father sadly passed away while he was very young and he was taken by his mother to be raised in the home of a US Senator. Paul received a good education in Charleston, graduating from the city's college in 1852 intending to follow a career practising law. His interests lay in writing though and he opted out of legal work in order to become a famous writer. Army service interrupted that and, in fact, the war cost him his home and a substantial library of books when Charleston came under heavy bombardment in 1862. He was financially ruined by this but, as soon as he was able to, he moved to a quieter location. He found a simple house in Grovetown which was situated in a wooded area close to Augusta, Georgia. He lived and worked there for the rest of his life.
His new home in Grovetown provided him with much scope for literary employment and he worked as both literary critic and editor for several southern-based magazines, as well as contributing his own work when he could. His poetry could be found in a number of publications, examples being the Southern Literary Messenger and the Southern Bivouac. He also set up his own magazine, in tandem with another novelist. They called it Russell"s Magazine, and Hayne was chief editor.
As mentioned above, Hayne was an influential figure in other writer's careers but he published his own poems as well. Two examples are Sonnets and Other Poems, published in 1857, and what turned out to be his last work, The Broken Battalions, which appeared in 1885, one year before his death. Understandably many of the poems took the form of long, narrative style ballads based on his war experiences. Other work though was of a lyrical, sometimes romantic nature, and mirrored that of many other southern poets in its glorification of nature and the natural world. Some critics compared his work to that of John Keats. Here is an example of his romantic style, a poem named The Rose and Thorn: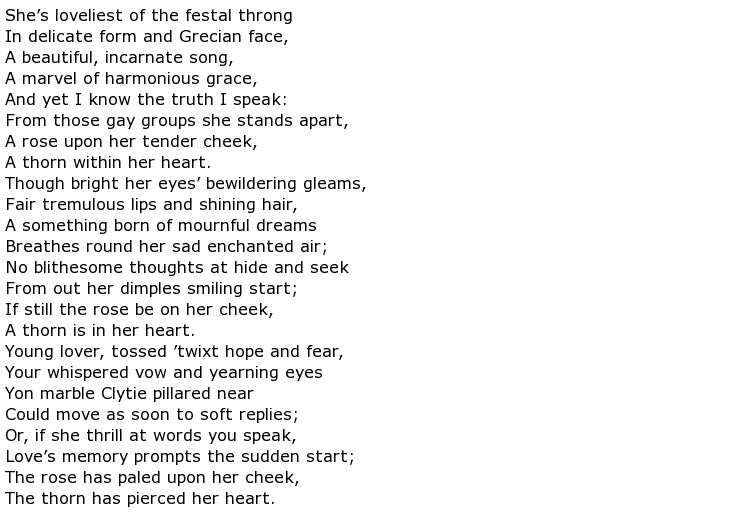 Many critics have recorded that his Sonnets were his best work. His fame spread northwards and, in the end, he was appreciated in both northern and southern states of America, so much so that he was considered to be the unofficial Poet Laureate of the South.
Shortly before his death The Paul Hayne School was opened in his honour, in Birmingham, Alabama. On its dedication the school received an original poem by Hayne along with a commemorative book of verse.
Paul Hamilton Hayne died young on the 6th July 1886, aged only 56.