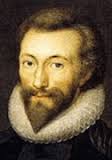 Henry Vaughan was hailed by Samuel Johnson as one of the metaphysical poets, who were a group of seventeenth century British poets whose works were described as witty, elaborate and original and which questioned the meaning of spirituality and religion.
Henry Vaughan and his twin brother Thomas were born on April 17th 1621 (by Vaughan's own reckoning), in Brecknockshire (now Breconshire), south east Wales. His parents were Thomas and Denise. This was a time of religious tensions between Catholic and Protestant factions in Great Britain and Vaughan's family contained the heritage of both sides.
The brothers received a traditional education, with emphasis on religion and adherence to the monarchy, from the Reverend Matthew Herbert. Henry briefly attended Jesus College, Oxford but his family persuaded him to follow a career as a lawyer so he left College in 1640. During the English Civil War, which ran from 1642 to 1651, he was called to military service, for a short time serving with the Royalist armies. Afterwards he studied medicine. In 1946 he made his first marriage, to Catherine Wise, a union which produced four children. After Catherine's death he married her sister Elizabeth.
In 1647 Vaughan had moved his family to the countryside. The area he chose to live in is now known as the Brecon Beacons National Park and its timeless beauty was the inspiration for much of Vaughan's later writing. Here, he wrote Olor Iscanus (the Swan of Usk), though it was not published for three years. It is thought that this work represented the darkest period of Vaughan's life, alluding as it does to the Civil War, the malign attentions of the Republican government and the misfortune of being evicted from his home. Vaughan at this time was vague about his role in the war, declaring himself "clean on innocent blood" while at the same time giving an account of his own "soldiery". The poems he wrote then showed his weariness with the war's effect on the monarchist cause. His poem The Timber used the metaphor of a dead tree to illustrate his feelings to great effect:

Vaughan's most famous work was a two volume collection, Silex Scintillians, part of which had alluded to a time of pain and sickness in his life. Vaughan believed he had a near-death experience which gave him a chance to start again and make amends for his self-perceived mis-spent youth. He vowed to produce better work and described his own previous work as "foul and corrupt". Silex Scintillians marked the beginning of much acclaim and recognition for Vaughan's work, which he attributed to the influential Welsh poet George Herbert, who inspired and was revered by many of the metaphysical poets and who Vaughan felt revived his spiritual side, calling Herbert "that blessed man". Indeed Vaughan's poetry is often favourably compared to that of George Herbert, especially for his literary style. And though some critics at the time accused Vaughan of imitating Herbert too closely there is no doubt Vaughan's ability to make the reader understand his words is undeniable and his vision of nature and mysticism would influence poets centuries after his death.
Henry Vaughan died April 23rd 1695 at the venerable age of 74 and is buried at Llansantffraed, Powys, where he spent much of his life. His legacy lives on in the influence of poets such as Wordsworth, Tennyson and Sassoon.