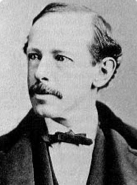 Horatio Alger Jr. was a 19th-century American poet and novelist who wrote during the so-called "Gilded Age" in the United States where many of the people were struggling to make any kind of life for themselves whilst the country's economy was going through boom times.  Alger wrote about young men who rose from the doldrums of poverty to get themselves into a position of earning a decent living and enjoying much better social standing.  This oft-repeated process was known, in his novels, as the "Horatio Alger myth" where many of these characters have the good fortune to do a rich person a good turn, or service, thus increasing their own prospects.
He was born on the 13th January 1832 in Chelsea, Massachusetts, a small coastal town.  His father was a Unitarian minister and the family had good connections going back to the 18th century, including the Pilgrim Fathers and a string of influential politicians, and he hoped that his son might follow him as a minister.  His education began well at Chelsea Grammar School but financial difficulties caused the family to move to an agricultural area west of Boston.
He managed to get into Harvard and fellow students included a future luminary in the world of American literature in Henry Wadsworth Longfellow.  Alger did fairly well there despite some of its advantages being withheld from him, such as joining the Hasty Pudding students' social club.  Nevertheless he pressed on with his writing ambitions and had a poem and two essays published in a Boston magazine called the Pictorial National Library.  His hard work at college resulted in a Phi Beta Kappa Society honours degree in 1852.
Alas there were no immediate openings for him as a writer although he did manage to get an editorial position with the Boston Daily Advertiser, a job which was not to his liking.  He had a short spell teaching at a boys' boarding school following this.  By the year 1856 he finally seemed to be making his mark as a published writer with a collection of short stories called



being his first effort.  This was followed by a satirical poem of great length called



which was published in 1857.
During the next three years he was a student once more, this time at Harvard Divinity School and he then set off for a year-long sojourn in Europe.  The Civil War broke out on his return but he was exempted service due to poor health.  Alger really made his name as a writer with a book called Ragged Dick in 1868, this being the first of his "young man makes good" titles.  Before this though he had tried a career in the church but this was brought to an abrupt halt when he was charged with inappropriate behaviour with boys, the charge sheet reading that he had committed



He did not deny the charges.
A move to New York coincided with his most prolific period as a writer and he published a great deal of poetry including the epic tale of John Maynard, the hero of a shipwreck that actually happened on Lake Erie.  Here is an extract from this lyrical poem, with the drifting ship burning furiously: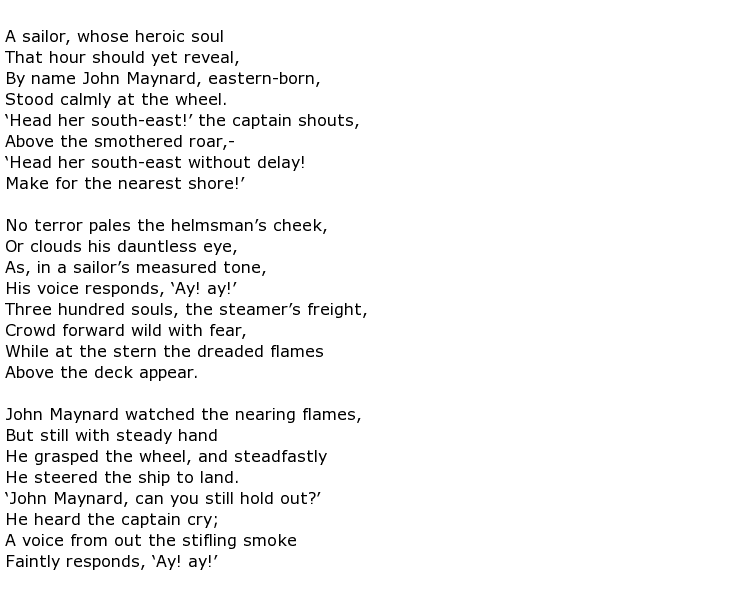 Maynard, against all odds, steered the ship to safety and three hundred lives were saved.  Alas the heroic helmsman perished in the blaze that engulfed



The literary world accepted Alger with open arms following this piece of work and he received a complimentary letter from Longfellow.  However, the following years were not kind to him as he persisted with his "boys tales", sinking into a world of repetition and his work lost its appeal.  Failing health and a lack of income led to his death following sustained attacks of bronchitis and asthma.
Horatio Alger Jr. died on the 18th July 1899 at the age of 67.