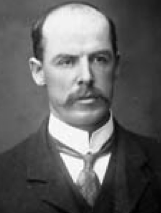 Hubert Church was an Australian poet and novelist who spent much of his life working as a civil servant in Wellington for the government of New Zealand.
He was born Hubert Newman Wigmore Church on the 13th June 1857 in Hobart, Tasmania.  His barrister father, whose English family tree included the Civil War Parliamentarian John Hampden, had emigrated from Somerset to make a new life in Australia.  When Hubert was eight years old he was sent back to the mother country for an education in Guildford and then Felstead.  He suffered an unfortunate accident at the age of 12 playing cricket.  The ball struck him on the head causing total deafness.  Despite this he managed to make a life for himself, reading avidly books covering many different topics.  He remained in England until about 1873 when he travelled to New Zealand, spending a brief period studying law at Blenheim before taking up a position in the treasury department in Wellington.
His literary development came late with a first collection of poems, called The West Wind, coming out in 1902 when Church was 45 years old.   Two further volumes followed:  Poems in 1904 and Egmont four years later.  He took early retirement from his treasury job in 1911 and moved to Melbourne to concentrate on writing.  A compilation of some new and some old verses was published in 1912 and then he decided to travel to England to aid the war effort in a voluntary capacity.  While there he wrote a novel called Tonks, a New Zealand Yarn which was about an English nobleman's amusing journey discovering the North Island.
Church was back in New Zealand by 1919 but, four years later, he returned to Melbourne once more and settled into a comfortable life with many friends and acquaintances in the literary world.  His work was becoming well known, and much admired.  Like many poets of his age he was inspired by the natural world around him and he clearly had a great affection for the places where he lived.  Fellow poet Jessie Mackay described Bowen Falls, Milford Sound as the



In his poem Spring in New Zealand he mentioned the "inky surges" of the southern ocean where its



The poem is reproduced here: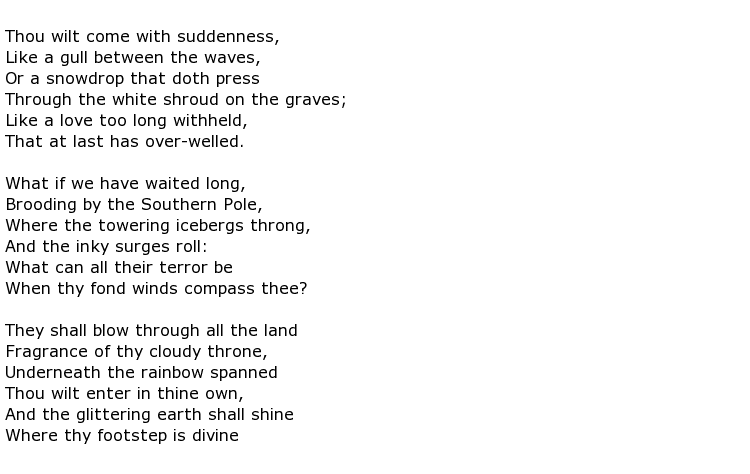 Not all of his written work was published in book form.  He contributed short stories and essays to various publications but he still had the time to write two more novels.  The first was about the life of a gambler and called Lucky Maidment while the second, Old Wairau, was about early settlers in Marlborough.  During his lifetime he was certainly a respected poet, with some of his work appearing on the inside doors of Wellington trams.  However, following his death, his influence waned considerably.  When E. H. McCormick wrote



in 1959 Church was not even mentioned.
Perhaps the tone of some of his poems did not sit well with many readers, a lot of it being gloomy and his "metaphysical musings" were sometimes hard to understand.  One critic even suggested that one needed a lexicon and a philosophical dictionary to understand some of it.
Hubert Church died on the 8th April 1932 at East Malvern, a suburb of Melbourne.  He was 74 years old and left his widow Catherine behind but no children.