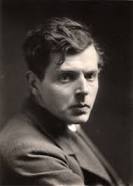 Ivor Bertie Gurney came into this world in Gloucester, England, August 28th 1890 to a father, David who worked as a tailor and mother Florence, a seamstress. From quite young he suffered from bi-polar disorder, a condition quite possibly inherited from his mother who was said to be unstable and highly-strung. Mental illness would come to affect Gurney severely in the last years of his life.
Gurney took a post as a choirboy at Gloucester Cathedral from the age of ten to sixteen and studied under Dr Herbert Brewer. His talent for writing had already been encouraged by the family vicar, the Reverend Alfred Cheesman who allowed the young boy to use his library. His fellow pupils here were Ivor Novello and Herbert Howells. Both these men would later make their own mark on the world of music. After winning a scholarship to the outstanding Royal College of Music his potential for greatness was noted when he began composing music at fourteen. His time here would leave a lasting impression and the beauty of the surrounding countryside and the River Severn would influence his work. His friendship with F W (Willy) Harvey, whom he met at Gloucester Cathedral and who would be a lifelong friend and who was also interested in poetry, opened up his mind to the great Elizabethan writers like Shakespeare and Ben Jonson.
At the start of the war, in 1914 Gurney enlisted with the Gloucester Regiment. In 1916 they were sent to the trenches on the Somme, site of the bloodiest fighting in WW1. His experiences here inspired some of his greatest poetry and spoke of the horror of war and his pining for the countryside of his homeland. Here are the opening lines of his poem On Severn:

In between the horrors and privations of the war, including the capture by the enemy of his friend, Willy Harvey, Gurney still managed to set some of his poems to music. His poems were sent home to Marion Scott at the Royal College of Music who typed them up for him. She sent these for publication and the collection, Severn and Somme, appeared in print around October 1917. By this time Gurney had already been wounded and then gassed, though this affected him only mildly. He later wrote,

He was evacuated to hospital back in Britain and was treated at Edinburgh Hospital where he found love with nurse Annie Drummond. When he left the hospital he was sent to Seaton Delaval in the north of England, on a signalling course, but the conditions here worsened his depressive illness. When he then had a nervous breakdown Annie Drummond ceased contact with him, causing him to contemplate suicide.
Gurney descended into complete mental collapse but was aided by his friends in a brief recuperation. He was able to return to his studies and his second book of verse was published in 1919. Into the 1920s he worked excessively, writing and working on a farm but his condition was deteriorating and he'd begun hearing voices in his head. Even though he was beginning to achieve recognition for his work he was becoming more manic, his lifestyle more erratic.
He was declared insane and admitted to a mental hospital in Gloucester. After an unsuccessful escape attempt he was sent to the City of London Mental Hospital but throughout all this he continued to write great poetry. He died of tuberculosis on December 26th 1937, at the age of 47.