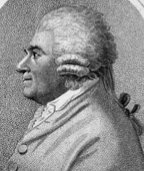 James Beattie was a distinguished 18th century Scottish poet, academic and moral philosopher whose work earned him the post-nominals FRSE – Fellowship of the Royal Society of Edinburgh, an organisation that he was a co-founder of.   His name carried such weight in literary history that he was one of the sixteen Scottish writers included on the Scott Monument that was completed in 1844 on Princes Street, Edinburgh.  It is, perhaps, remarkable that he chose to remain on the staff of Marischal College, near Aberdeen having been appointed Professor of Moral Philosophy and Logic in 1760.
He was born on the 25th October 1735 in Laurencekirk, a small north east town in Kincardineshire (now part of Aberdeenshire).  His father ran a small farming concern as well as being a shopkeeper but the means were found to send his son to Marischal from where he graduated in 1753.  He had ambitions in both philosophical and literary fields and his first volume of poetry was published in 1765 under the title The Judgment of Paris.  The piece of work that really made his reputation though was published in 1771.
Beattie often spoke out vehemently against the slave trade and his feelings were outlined in a remarkable work from the Scottish "common sense school of philosophy" called An Essay on the Nature and Immutability of Truth.  This proved popular around the world, including America, and Beattie was inducted into the American Philosophical Society in 1784.  Translations of the book were published in Dutch, French and German and he was soon summoned for an audience with King George III.  The result of this was the award of a Crown pension of £200 per annum and Oxford University bestowed an LL.D. degree upon him.  The famous painter Sir Joshua Reynolds painted his portrait.
Beattie's major work of poetry also came out the same year although The Minstrel actually constituted two separate books, the second being published in 1774.  Many readers and literary critics considered it to be a beautiful piece of descriptive writing, written in Spenserian stanzas.  It earned praise from all quarters, including the likes of Edmund Burke and Samuel Johnson.  It's full title was



and an extract is included here: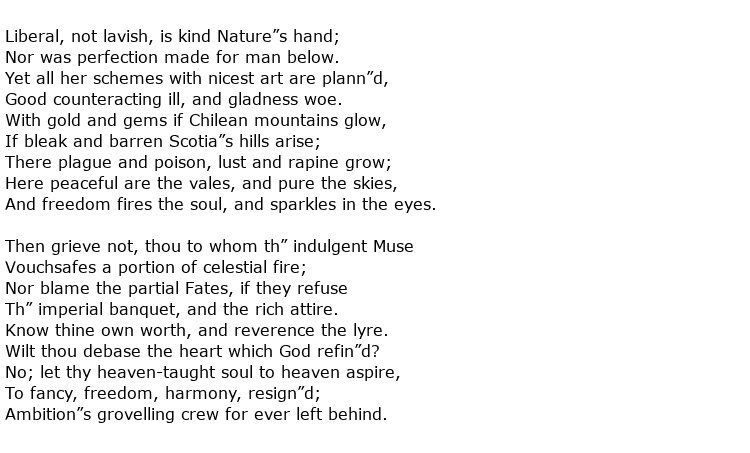 Many believed that this poem was a precursor to some of the central preoccupations of the Romantic movement, being a lyrical, comprehensive view of the natural world but Beattie tended to focus mostly on broad questions of religion, morality and philosophy in the majority of his work.  Perhaps it was inevitable that such a direction would lead the author into troubled waters and, indeed, his final years were not happy ones.  His family life disintegrated when, first, his wife was committed to an asylum having been declared mad and she later died there.  Then he lost both of his sons.  The elder son died in 1790 and the younger lost his life six years later.
Beattie struggled to cope with such tragedies and his health deteriorated rapidly.  He had several strokes until his body finally gave up on him.
James Beattie died in Aberdeen on the 18th August 1803 at the age of 67.