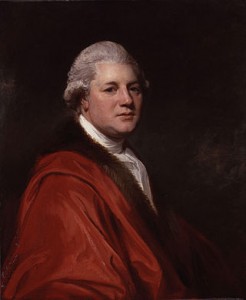 Born in 1736 in Ruthven, Scotland, James Macpherson is mostly well-known for his translation of the epic Ossian poems of his native land but was also an accomplished poet in his own right and a leading political figure of the time. Born into a reasonably wealthy family, Macpherson traveled to Aberdeen in his teens where he studied at King's College with a short sabbatical in Edinburgh.
Whilst at university he began writing verses and published his first work The Highlander in 1758, though for some reason he tried to withdraw it afterwards. He was, however, always attracted back to his home town of Ruthven in Inverness-shire and returned there to become a teacher after finishing his studies.
Over the years, Macpherson had been able to collect a number of Gaelic poems which he could recite by heart. When he met writer John Home, he was encouraged to put them down in a book called Fragments of Ancient Poetry collected in the Highlands of Scotland which was published in 1760. This caught the attention of a benefactor who provided Macpherson with the means to research and put down the poetry and tales of the Highlands.
In 1761, Macpherson supposedly found the remnants of an epic poem by Ossian and a later that year published the work under the title Fingal, an Ancient Epic Poem in Six Books. Other works followed and, in 1765, he published the definitive Collected Works of Ossian. The translations did not go uncontested and there were a number of critics and scholars, notably from Ireland, who doubted their authenticity.

Even the great Samuel Johnson later commented that Macpherson had merely found fragments of poetry and then had woven them into an epic using his own imagination. Macpherson did say that there were originals of the poems he had found but never produced these during his lifetime and controversy over the provenance of the Ossian epic poems continued well into the 19th century.
In 1764, Macpherson traveled to America where he served as secretary to George Johnstone, the colonial governor at the time. He returned to British shores just two years later and wrote a number of historical books before being elected to parliament in 1780. As MP for Camelford he turned away from writing and there is little information about his life during this period.

In his later years, MacPherson retired to Inverness-shire where he purchased an estate. Now a relatively wealthy man he was known for buying properties in the region and may well have purchased his right to be buried in Westminster Abbey.
Macpherson died at the age of 59 and was indeed interred at the Abbey. Sometime after he passed away, a noted historian, Malcolm Laing, concluded that MacPherson's Ossian collection was a modern creation and not from found ancient texts which had been translated. Whether this is true or not, many consider the Ossian poems to be great works and they have been translated into many languages over the years.