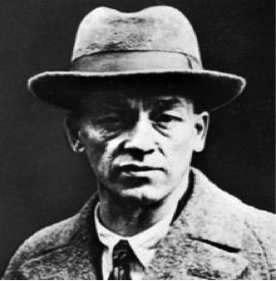 The Irish poet and novelist James Stephens was born in Dublin in February 1880. His father, Francis Stephens, died two years later. The young lad was taken in by the Collins family, who his mother worked for and adopted by them but was largely living in an orphanage. Known by friends as Tiny Tim due to his small stature at the Meath Protestant Industrial School for Boys (he was just 4′ 10″ tall), his early ambition to be a soldier was thwarted by his height.
He was a keen gymnast, and was part of the Dawson Street Gymnastics Club which won the Irish Shield for Gymnastics in 1901. Instead he graduated from school as a solicitor's clerk and held several uninspiring jobs in various offices, even becoming a proficient shorthand typist.
Stephens began writing poetry under the tutelage of Irish writer George William Russell, who was known for his kindness and generosity towards young writers. Russell helped him to publish his first book of poetry, Insurrections, in 1909. His poem, Insurrections, could be said to illustrate his philosophy on God and nature:
Stephens produced many humorous reworking of Irish myths and fairy tales, and wrote several novels. His first novel, The Charwoman's Daughter, appeared in 1911 in the Irish Review, which he co-founded with his close friend Thomas McDonagh. His next book, The Crock of Gold, established his fame and popularity and has been re-printed many times. By the turn of the century Stephens had become increasingly interested in socialism and by 1912 was a committed Irish Republican.
His verses and essays showing his support for the Sinn Fein party had been published between 1907 and 1912. He was very much affected by the 1916 Easter Rising, a rebellion by Irish Republicans against the British. His influential novel about this, The Insurrection in Dublin, told of the execution of his great friend Thomas McDonagh. Stephens described it as "like watching blood oozing from under a door." Stephens lived in Paris, London and Dublin. During the 1930s he became acquainted with the author James Joyce who, struggling to complete his own novel Finnegans Wake, asked Stephens to assist him in this task, suggesting that the authorship be credited as JJ &S (for James Joyce and Stephens, but also a play on the makers of an Irish whiskey called John Jameson & Sons) but in the end Joyce managed to complete the book by himself.
Stephens continued to publish books including translations of French poetry and became interested in the use of the Irish language. In his Memories of Dublin, published 1937, he said:

This was where he met his wife, Millicent (whom he called Cynthia) when lodging with the Kavanagh family. He was devastated when his son from that relationship was killed in a railway accident. By 1940 he was living in London, where he embarked on a new career as a broadcaster for the BBC. He continued to broadcast until his death on the 26th December 1950.