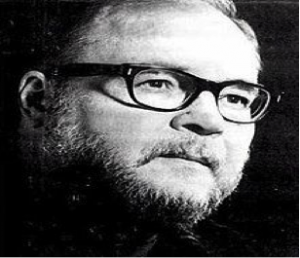 Pulitzer Prize-winning American poet James Wright came to prominence in 1956 with The Green Wall, a volume of poems which was awarded the Yale Younger Poets Prize. He has been called:

Wright was born December 13th 1927 in Martins Ferry, Ohio, to a glass factory worker father and a laundry worker mother. His graduation from school was a year late because he had missed one year's schooling due to a nervous breakdown. He joined the Army in 1946, serving in Japan. After his army service he returned to education, graduating with honours from Kenyon College, where he studied English and Russian literature. He wrote prolifically during this time and won the Robert Frost Poetry Prize. After marrying Liberty Kardules he, and his wife, went to Vienna where he studied the works of Theodor Storm and George Traki at the University of Vienna. His higher education concluded with the acquisition of a master's degree and a doctoral degree from the University of Washington. After making his literary debut with The Green Wall he took up a position as a professor at the University of Minnesota. In 1962 his marriage to Liberty failed.
Throughout previous years and into the 1960s he and his friend, poet Robert Bly, had worked together on translations of the work of European and Spanish poets. Although his early work had been formal, by the early 60s he produced works which were innovative in the creation of new rhythms and the presentation of clear and precise images. The next ten years produced some of his most popular masterpieces such as A Blessing, and Autumn Begins In Martins Ferry, Ohio. Here is an extract from The Blessing:

Wright's 1963 book, The Branch Shall Not Break, became a very influential work through the 1960s and marked a change towards free composition. However some critics said that his poetry "lacked discipline". Roger Hecht described the "self-pity" and "talkiness" of Wright's poetry as a weak point and Wright himself agreed with this. Wright said:

Wright's teaching career continued with positions at the University of Minnesota and Macalester College, culminating in an assignment as Visiting Lecturer at the State University of New York, Buffalo.
He remarried after meeting Edith Ann Runk in 1967. They moved to New York together and it seems his wife was a calming influence on him, helping him to reduce his drinking. They lived a peripatetic lifestyle, moving from hotel to hotel just writing poetry and enjoying themselves. But in 1979, after contracting a sore throat, Wright was diagnosed with inoperable cancer. He died on March 25th 1980.