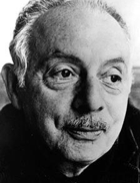 Stanley Kunitz  was a US born Pulitzer Prize-winning poet and journalist who lived a remarkably long life that spanned a hundred years.  He was appointed



twice, the first time in 1974 and then again at the age of 95.  He taught at a number of colleges, travelling the country wherever he could find a position.
He was born Stanley Jasspon Kunitz on the 29th July 1905 in Worcester, Massachusetts.  His mother and father were of Jewish-Russian-Lithuanian descent but, tragically, he never knew his father.  His business had failed and he took the drastic solution of committing suicide by drinking carbolic acid in Worcester's public park.  Stanley's mother was so distraught that she obliterated every trace of his existence from their home and set about raising her three children alone.
Life seemed to get better when his mother remarried but they too got into financial difficulties and the stepfather died suddenly of a heart attack.  Stanley decided to go it alone at the tender age of 15, finding a job working for a butcher in the first instance but then securing a position as a junior reporter on The Worcester Telegram paper.  He managed to put himself through college, graduating from Harvard in 1926 summa cum laude.  He had been reading English and philosophy and he went on to attain a Masters' one year later.  Unfortunately he then encountered anti-Semitism when being denied the chance to teach non-Jewish students at the college.  He would, though, overcome these obstacles later in life.
Kunitz went back to journalism, moving on to New York City and later New Hope, Pennsylvania.  Between the years 1930 and 1958 he was married and divorced twice, his second wife bearing him a daughter.  He refused to volunteer his services for the Second World War military effort although he was forced into the Army against his will, serving at Air Transport Command in Washington in an administrative and educational role.  His peripatetic teaching career then began in 1946 in Vermont and over the next forty years or so he found many more teaching assignments.  His travels took him to the University of Washington as a visiting professor, and then Columbia, Yale and Princeton Universities amongst others.
He had set about becoming a poet in the early 1930s and, at first, he found an outlet for his work in a number of publications, including The New Republic, The Nation and Commonweal.  That same year his first book of poems came out under the title Intellectual Things but it took another fourteen years before his next book was published, this being Passport to the War.  Many more followed and he was praised by critics and readers for the quality of his work.  It won him the honour of Poet Laureate for New York State (1987-89) and he was still having work published in his 100th year.  It was suggested that a lot of his poetry was influenced by the likes of Carl Jung but Kunitz, in turn, most certainly influenced other poets himself.
Here is a poignant example of his work, a poem called End of Summer.  It tells not only of the changing season from the warmth of summer to the cold winds that follow but also of the passing of time in the life of a man.  As the year turns round again it signifies a part of the author's life that is moving on, never to be revisited: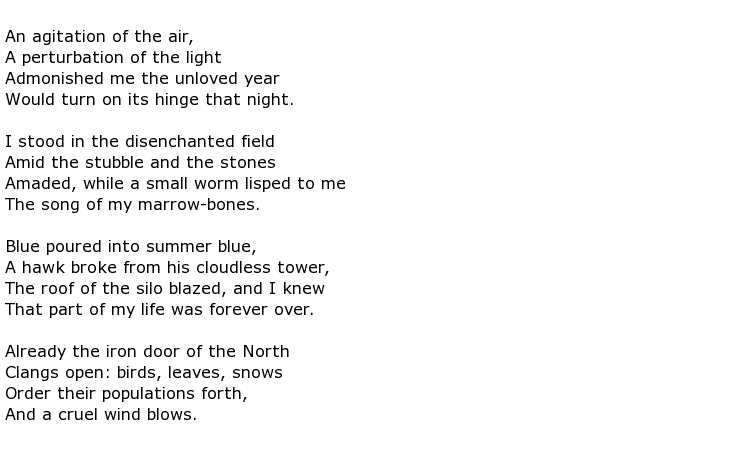 He won countless awards including the prestigious Robert Frost Medal, the Bollingen Prize and the National Book Award for Poetry.
Stanley Kunitz died at home in Manhattan on the 14th May 2006, aged 100.