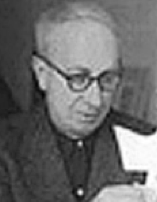 Jean Hans Arp was a German-French poet who was, perhaps, better known as a sculptor and abstract artist who used a variety of materials to create his art.  There seems to have been some confusion over his nationality at first.  When speaking in French he liked to be called Jean.  When speaking in German he was Hans.  He would eventually formally take French nationality though.
He was born on the 16th September 1886 in the French/German border town of Strasbourg, his father being German and his mother French.  The region in which he grew up was under German control until 1918 when it was given back to the French at the end of the war.  He went to school in Strasbourg up to the age of 18 and then moved to Paris where he found a publishing outlet for his poetry for the first time.  He had a desire to study art at a high level and, in 1905, he enrolled at the Kunstschule school of art in the German city of Weimar, remaining there for two years.  He followed this with further studies at the Académie Julian in Paris.
As the First World War approached he adopted subterfuge to avoid being called up to serve in the German army.  This involved making a nonsense of the form that he was given to complete and then handing it in at the German Consulate having taken off all of his clothes.  He was presumably excused on grounds of madness!  He confirmed his contempt for conventionality by helping to form the Dada movement of avant-garde artists and writers and he exhibited work at a number of surrealist exhibitions until the 1930s.
While continuing with his art and sculpture activities Arp published a great number of  poems and essays from then up to the end of his life.  He found himself fleeing war-torn Paris in 1942 to go an live in neutral Zurich where he could continue his work in peace.  His writing was very much on the same lines as his art, often featuring surreal, almost unfathomable themes.  Here is a good example – a poem called The Air is a Root: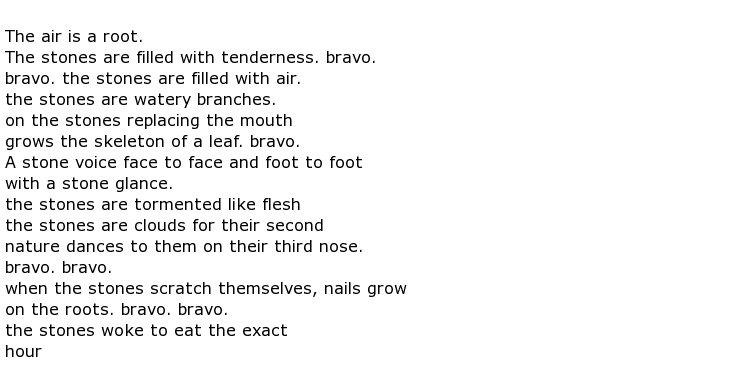 Arp was married in 1926 to a Sophie Teauber, a fellow artist and they both adopted French nationality.  She died in 1943 while they were both living in Zurich and he married again in 1959.  After the war he returned to live at their family home at Meudon, near Paris and he dedicated many of his written pieces of work to his late wife.
Two posthumous collections of his poetry and essays were published in the 1970s.  First, in 1972, was



and then, two years later



was published.  He won many prizes and awards for his art and sculpture but there is no evidence of any literary awards.  It seems that literature, while once it had been his first concern, eventually came second to his other talents.  However exhibitions have been mounted all over Europe showing that his playful style could reveal a distinct interaction between visual art and poetry.
Jean Hans Arp died in Basel, Switzerland on the 7th June 1966.  He was 79 years old.