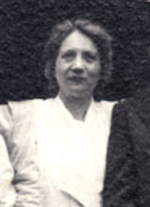 Jean Starr Untermeyer was a US born poet, college lecturer and translator of works by Hermann Broch, an Austrian author with whom she collaborated.  She published at least six collections of her own poetry and wrote a memoir later in life.
She was born Jean Starr on the 13th March 1886 in Zanesville, Ohio.  Her well-to-do Jewish parents had family roots in Germany and she was sent to New York City"s Kohut College Preparatory for early education.  Later, while studying at Columbia University, she met her future husband, Louis Untermeyer, also a poet.  She did not stay long enough to finish her degree as they were married in January 1907 and, that same year, had a baby son.
It was a fruitful union for her as far as her literary life was concerned as, through her husband, she came to meet with other poets in the New York area.  Untermeyer was particularly inspired by the great Edna St Vincent Millay and she soon got down to writing her own poetry.  Her husband was very impressed and, with her agreement, submitted material to a number of magazines, all of which were happy to publish them.  In 1918, without his prompting this time, she had her first collection published under the title Growing Pains.  Three years later a second book came out called



During that same year the couple visited Europe and Jean tried her hand at singing in public.  She had always had aspirations in that direction and sang at venues in Vienna and Berlin, performing "lieder" which is a German variation on merging poetry and music.  Her success in this new venture was limited and she was not encouraged to pursue a career in song.  On returning to American soil, the Untermeyers spent the whole summer in 1925 sharing ideas and inspiration amongst artists and writers in Peterborough, New Hampshire at a colony known as the MacDowell artists.
Tragedy was to befall them both shortly afterwards.  The couple filed for divorce in 1926 and then their student son, Richard, killed himself in his room at University during his sophomore year of 1927.  Perhaps the shock of this mutual loss brought them back together and they remarried before divorcing each other for the second time in 1933.  None of these personal crises seemed to interfere with Untermeyer's writing though.  Another collection of poems came out in 1936 called Winged Child.
Critics have generally described her work as



Her subject matter covers many areas including the natural world but many poems are about human anguish and the loss of loved ones.  A good example would be a poem called Self-rejected which appears to be about someone in despair trying to isolate themselves from others who would seek to nurture them back to life.  The poem is reproduced here: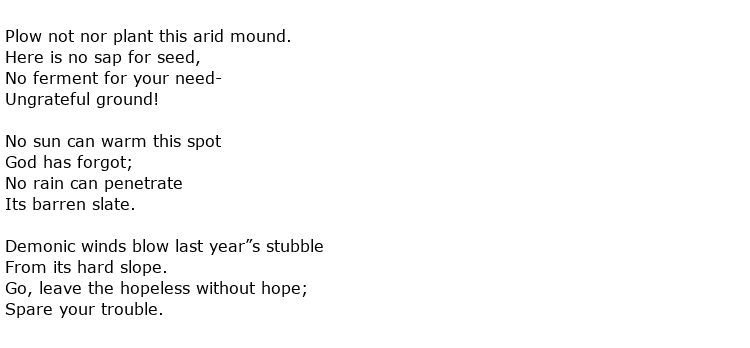 Untermeyer visited artists colonies again, this time alone, and on one visit to Saratoga Springs she met the author Hermann Broch and thus began their complex collaboration to get his book



translated into English.  Her version came out in 1946 with the title



In her later years she taught at establishments in New York City and Michigan.
Jean Starr Untermeyer died on the 27th July 1970 at the age of 84.