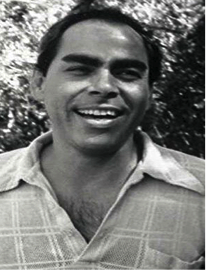 Born in New Mexico in 1952, Jimmy Santiago Baca was brought up by his own grandmother after his abandonment by his parents but was then taken to an orphanage from where he ran away at the age of thirteen.  He lived rough on the street for a while then in 1973 he was arrested and convicted of drugs charges and received a five year sentence in secure prison.  It was here that he resolved to better his life.  He learned reading and writing and discovered a love for poetry.  Introduced to a woman called Mariposa he wrote her many letters and it was through these he was able to develop his writing 'voice'.  Determined not to follow a life of crime he came out of prison as a writer. He had sent a few of his poems to the editor of The Nation, (a weekly politico- culture magazine) called Denise Levertov,.  These were published in 1979, the year of his release from prison.  They went on to form part of his first collection – 'Immigrants in Our Own Land' revealing a passionate voice and powerful images describing the confusing urban landscape of the American Southwest.  The opening lines from the title poem are here:-

Baca's work reflects his passion for justice, for the disenfranchised and the addicted.  After leaving prison Baca made it part of his life's work to teach others and he holds writing workshops for both adults and children alike at various learning institutes, reservations and prisons all over the United States of America.  In 2005 he founded the Cedar Tree Inc., to support his workshops by means of charitable donations.  His aims are to give people from all walks of life an opportunity to improve their lives through education.  Baca believes that knowing how to read and write is the very basis of being able to function in society, of knowing how everything works.
In 1987 Baca received the American Book Award for poetry for the semi-autobiographical 'Martin and Meditations on the South Valley'. In addition he has also received a Pushcart Prize and the Hispanic Heritage Award for Literature.  He wrote a memoir in 2001 – 'A Place to Stand' – chronicling his troubled upbringing and prison term, which received the International Prize.  In 2006 Baca was awarded the prestigious Cornelius P Turner award in honour of his 'outstanding contribution' in the areas of social welfare and education.
Throughout his lifetime Baca has written many books of poetry and essays plus a play in 1991 called Los Tres hijos de Julia. He has also written a screenplay called Bound By Honour which was made into Hollywood movie called Blood In, Blood Out, in 1993.  He continues to produce work and in 2011 he published Breaking Bread with the Darkness, Book 1: The Esai Poems illustrating his fascination with his newborn son and his thoughts and observations on the world which the boy will inherit:

Baca's current novel is A Glass of Water, which was published in January 2014.