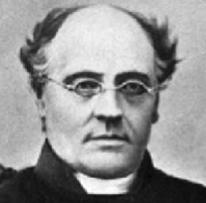 Johan Ludvig Runeberg was a poet hailing from Finland who wrote in Swedish.  He wrote the lyrics to a song called Our Land which was adopted as the national anthem of Finland and his fame and literary achievements led him to be considered the National Poet of Finland.  He wrote many religious pieces for a Finnish Lutheran hymnal, this being the nationally recognised book of hymns.  He was also a languages teacher at a number of establishments.
He was born on the 5th February 1804 in the west coast town of Jakobstad into a Swedish-speaking family.  He was fortunate enough to receive a decent education which culminated in the study of the classical languages Greek and Latin at the recently-established Imperial Academy of Turku.  He graduated in 1827 with a Master of Philosophy degree.   During the 1830s he was a professor of Latin literature and part of a cultural circle centred around various academic establishments.
Runeberg was also writing a great deal of poetry at the time and much of it concerned the harshness of rural life in Finland.  This is, of course, a country of extreme climates and it is hard to cultivate the land while staving off the effects of hard frosts and thaw-induced floods.  One of his most famous poems was about a peasant farmer named Paavo who survived, with his wife, only by mixing bark with grain and baking it into bread.  Here are the opening verses from the poem Saarijärven Paavo: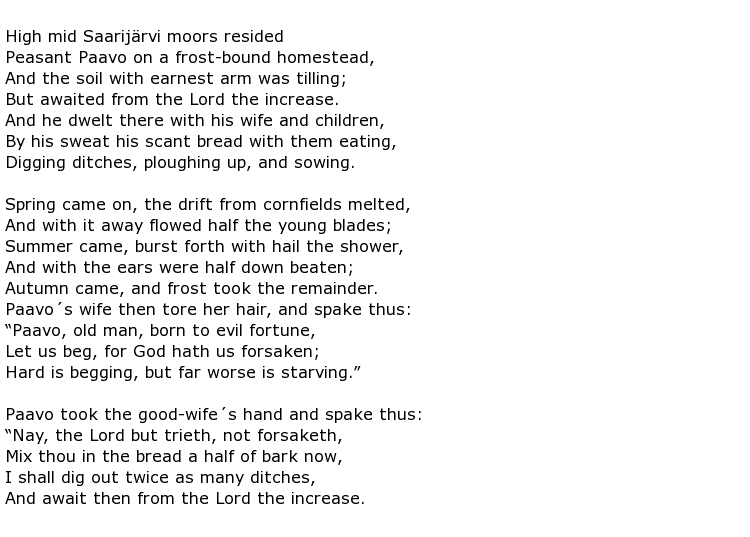 The twist to this tale is that good fortune finally came their way with a decent crop so that they could afford to eat "proper" bread but, such was the farmer's kind nature, Paavo instructed his wife to continue baking bark-bread so that they could help out a struggling neighbour.
Runeberg was well known for his epic-style of writing, describing the exploits of great hunters in an 1832 piece called The Elk Hunters and tales of noble deeds in the Finnish war of 1808-09.  One heroic poem in particular stood out; The Tales of Ensign Stål is considered by most to be the best of its kind.  While the poem praised the humanity shown on both sides of the conflict it paid particular attention to the heroism of the Finnish participants.
Because he wrote in Swedish it could be said that Runeberg had a major influence on both Finnish and Swedish literature and he has often been compared with other Romantic European writers such as John Keats, Percy Bysshe Shelley and Victor Hugo.  He was certainly the first Finnish writer to achieve international fame.
He was a family man, his wife Frederika (also a writer, of novels and poetry) bearing him eight children.  He left behind a great legacy of poems and hymns which led to him being honoured in a number of ways.  Finland celebrates Runeberg Day on the 5th February each year (the writer's birthday) and there is a statue of him in the centre of Helsinki.  This was fashioned by his sculptor son Walter Runeberg.  On the 200th anniversary of his birth, in 2004, a special commemorative ten euro coin was minted.
Johan Ludvig Runeberg died on the 6th May 1877 at the age of 73.