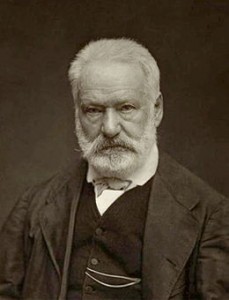 One of the true literary giants of the 19th Century, Victor Hugo was born in 1802 in Besancon in France and was a leading dramatist in the Romantic Movement of the century. He was born into an age of huge turmoil with the rise of the Napoleonic era that created family divides, his father a high ranking official in the army and his mother a royalist who was firmly against the regime.
Hugo's youth and education was dominated by his mother and this led to his early works being dominated by her notion of kingly rule and the importance of the realm. At a young age he fell in love with Adele Foucher, someone his mother did not approve of. He would have to wait until the death of his mother until he could finally marry.
From 1815, Hugo took up the study of law as was the accepted practice at the time although he probably never intended to become an advocate. Instead, he began his career as a writer and created the journal Conservateur Litteraire which was primarily designed to publish his own work. In 1821 his mother died and Hugo wasted no time in marrying Adele. In the same year he also managed to publish his first collection of poetry under the title Odes et poésies diverses.
This was followed by his first attempt at a novel and a few plays that gained him a reputation in Paris. His style was largely formed in these first ten years of his writing life but it wasn't until 1831 that he published his most notable and famous work up to that point, The Hunchback of Notre Dame. The book is full of criticism about the French society of the day and provided Hugo with a solid platform on which to progress with his more politically overt writings.

By the beginning of the 1840s, his reputation had been made with works such as The Last Day of a Condemned Man that is often seen as the kernel that would later transform into Les Miserables. With his fame rising, Hugo was elected to the French Academy and became a divisive political figure, so much so that during a coup in the early 1850s he was forced to retreat to Brussels.
Hugo had already begun to write Les Miserables which would take some 17 years to complete. Living in exile, his other writing became filled with satirical swipes at French society but it would be nearly twenty years before he returned to his home country. Les Miserables was published in 1862 and became an instant hit in Europe and in America.

The publication marked the high point of Hugo's career and even though he returned to France in 1870 his life was marked by tragedy. His two sons died and his writing became obsessed with God and Satan and is largely considered to be darker than his more accomplished earlier works. Hugo moved to Paris with his mistress but had by then developed a heart condition and he died in 1885 at the age of 83.
Victor Hugo was considered a hero of France and he was given a state funeral before being laid to rest at the Pantheon in Paris.