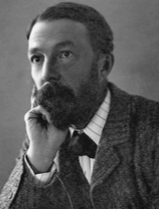 John Addington Symonds was a 19th century English poet, biographer, literary historian and critic.  He also taught at a number of establishments in Bristol.  His life took a curious course in that he married and had children but was also an enthusiastic advocate of homosexuality, espousing pederasty and egalitarianism in equal measures.  Indeed, one of his poems (simply called Hymn) suggested a utopian world where men would live in sexual harmony and equality, thus making life so much safer and more bearable for all.  Although discreet in his earlier affairs, towards the end of his life he was more open about his private life.
He was born on the 5th October 1840 in Bristol, the son of a doctor.  He lost his mother at the age of four but grew up in a predominantly female household due to the presence of aunts, governesses and sisters.  He was sent to Harrow school but did not excel, either academically or physically.  Indeed he was quite a weedy boy and unable to take part in sporting activities.  He did, however, secure a place at Balliol College, Oxford and began his studies there in 1858.  It was at this time that he had, probably, his first experience of male love.  It was a year-long affair with a fellow Bristolian who was three years younger than Symonds.
His academic life improved over the next few years, winning prizes for his writing at the University of Oxford, and by 1862 he was awarded an open fellowship at Magdalen College.  An altercation with a man named Shorting caused a great deal of stress, leading to a mental breakdown and flight to Switzerland.  Perhaps this incident encouraged him to seek female company while there and, in fact, he met the woman who he would marry.  The ceremony took place in November 1864 and they settled in London, producing four daughters.
His homosexual yearnings were still there though and, during a spell of teaching in Clifton, Bristol he embarked on a four-year affair with a young man which began in 1868.  They went to Italy together at one point and it has been recorded that some of his best poetry came out of this period, the work being collected and published in 1880 under the title New and Old: A Volume of Verse.  A good example of his work, as mentioned above, was the poem Hymn and it is reproduced here: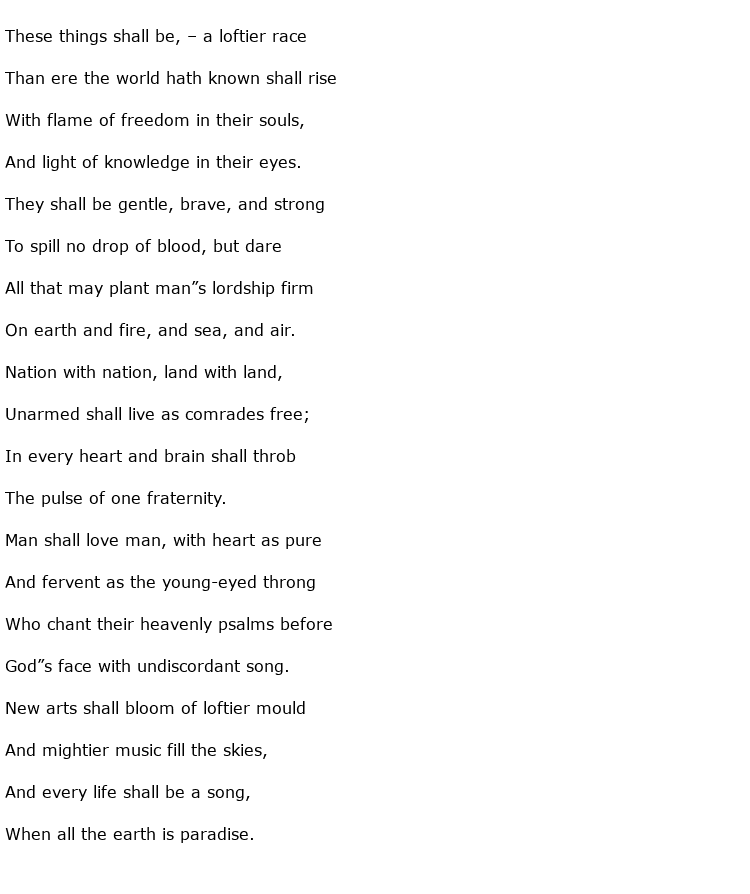 Symonds was passionately interested in the Italian Renaissance period in literature and art and he eventually produced a seven-volume piece of work called Renaissance in Italy, published during the period 1875-86.   His love affair with this subject had begun at Oxford where he wrote a prize-winning essay and he was keen to study it further.  Unfortunately health issues seriously hampered his progress and he was forced to convalesce from a serious illness in 1877 at a small Swiss village called Davos Platz.  He was so enamoured by the place that he almost made it his home, writing a book called Our Life in the Swiss Highlands in 1891.
He wrote several biographies here including one on Shelley, in 1878, Ben Jonson (1886) and Michelangelo (1893).  Despite his poor health he was prolific in his literary output, adding poetry and essays to his considerable canon of work.  He loved to spend time in Italy and spent a great deal of his time in Venice and Rome.  Often he was described a melancholic, introspective man although he was also a good orator, singing the praises of the natural world, describing the glories of drinking wine and listening to good music.
His poetic output was perhaps the lesser of his talents, being described by one critic as that of



but it still displayed his emotions and inner feelings.  Much of it was of a homo-erotic nature and caused a great deal of controversy in certain quarters.  A Problem in Greek Ethics, published in 1873, was later described as a "gay history".  It was considered to be "perhaps the most exhaustive eulogy of Greek love" and possibly included the first use of the word homosexual in literature.  The practice of pederasty was freely discussed although Symonds referred to the love between men and young boys as "that unmentionable custom".
John Addington Symonds died in Rome on the 19th April 1893 at the age of 52.