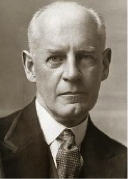 John Galsworthy was an English novelist, playwright and poet whose work bridged both Victorian and Edwardian eras. He was best known for his saga of the middle classes called The Forsyte Saga, a trilogy of novels and two short interludes, which were popular at the time of writing but which became even more so when they were adapted for British television in the 1960s. He was offered a knighthood for his services to literature but turned it down, but he did accept the Order of Merit. Tragically he was awarded the Nobel prize for literature but was so ill, and close to death, that he was unable to attend the award ceremony.
He was born into a wealthy family living in Kingston Hill, Surrey on the 14th August 1867. The size of the family estate is illustrated by the fact that nowadays there are three separate schools on the site. John attended Harrow school, afterwards going up to New College Oxford where he read the law. He qualified as a barrister and was called to the bar in 1890 but, alas, this was not the career for him. The family had shipping interests overseas and John travelled the world looking after their interests for some time.
While in Australia he met another budding writer, Joseph Conrad, and their mutual interest in literature helped to forge a close friendship. He was still some way off getting any of his work published and, in 1895, he began a long-running love affair with Ada, the wife of one of his cousins, one Major Arthur Galsworthy. John and Ada lived together whenever they could and eventually she managed to secure a divorce so that they could marry in 1905. It is said that the character of Irene in The Forsyte Saga is based on Ada, although Galsworthy gave Irene quite a miserable existence whereas Ada's life before her second marriage had not been so.
In 1897 Galsworthy had a collection of short stories published called From the Four Winds, although he used the pen name John Sinjohn for this and other pieces of his early published works. The first book under his own name came out in 1904 and was called The Island Pharisees. The first Forsyte instalment appeared in 1906, called The Man of Property, and he also wrote another one called The Silver Box in the same year. Galsworthy would remain best known for his plays for some time. He, along with other writers such as George Bernard Shaw, focused on the lives of the middle classes and the story reflected his own upbringing.
His writing showed that he freely acknowledged the privilege of his own family background while, at the same time, he was never afraid to highlight the snobbishness and insularity of people of that class. His work included elements of Victorian values allied to emerging Edwardian attitudes and he was, in fact, viewed as the first of the Edwardian writers. While delving deeply into the trials and tribulations of the Forsyte family he used the character Irene to illustrate that many women were deeply unhappy in their marriages despite the wealth and advantages that they might enjoy.
In his other work Galsworthy focused on such areas as social issues and a good example of this was his poem England, to Free Men which appears to be saying that all Englishmen, from wherever they come, are welcome "into his courtyard". Here is the poem: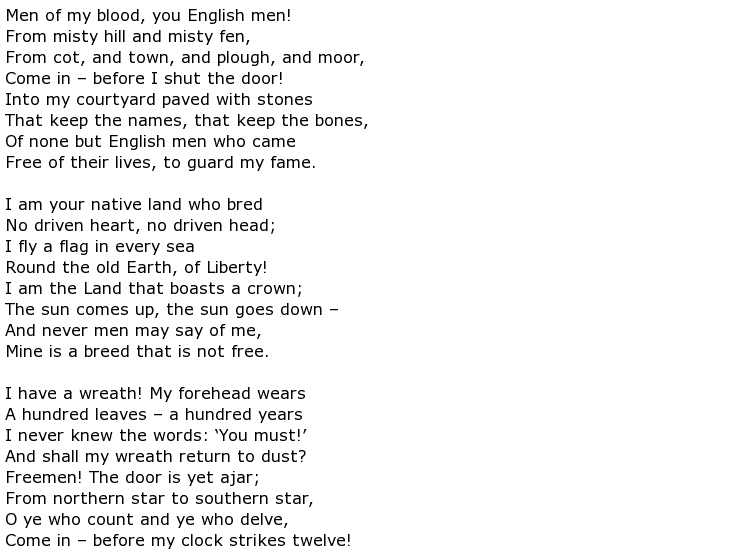 Late in his life Galsworthy was awarded the Order of Merit, in 1929, and the Nobel Prize for Literature in 1932. Unfortunately he was severely ill at this time, suffering from a brain tumour.
John Galsworthy died in London on the 31st January 1933, aged 65.