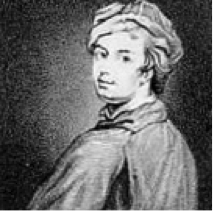 John Gay lived a relatively short life from the end of the 17th century to only the third decade of the 18th century but managed to write enough controversial verse to last a much longer lifetime. He was, on the one hand, patronised by the great and the good, thus allowing him to continue his musings. On the other hand he was reviled for his sometimes incomprehensible work, a good example being a dramatic skit on contemporary tragedy called What d"ye call it? Readers found this so hard to understand that the true meaning of the piece had to be explained in a separate publication by two other writers. Gay moved in sometimes Royal circles throughout his life without ever really capitalising on his good fortune. His name will be best remembered though for The Beggar's Opera which was an allegorical ballad opera which was first staged in 1728.
John Gay was born in the Devon town of Barnstaple on the 30th June 1685. He was educated locally before being sent to London to be an apprentice in the silk industry. This was, though, not to his liking and he soon returned to the south west where he received further education, this time privately from an uncle. He then set off back to London where he set about making his name as a writer. His work was sometimes deliberately provocative. Take, for example, The Shepherd's Week, which was written in 1714 and was a graphic portrayal of love and romance amongst farm labourers in the English countryside. Here is a three-verse extract which appears to be part of a conversation between two characters called "Cuddy" and "Lobbin Clout". The style is playful and mildly erotic: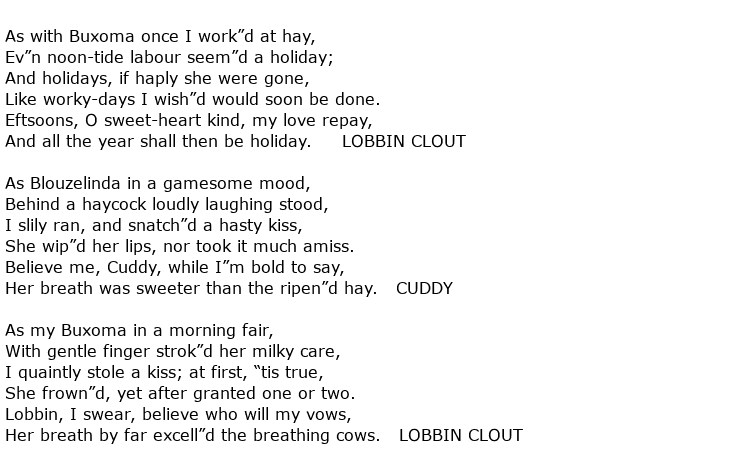 His good friend Alexander Pope encouraged this six-part pastoral piece in order to attack another writer (Ambrose Philips) who had written other pastoral poems that were said to be superior to those of Pope's. Pope was, in many circles, acknowledged as the best and the first of England's pastoral poets and was even compared to the classic Greek poet Theocritus.
Gay was set for a diplomatic career at the Court of Hanover but lost this opportunity within months of it arising due to the death of Queen Anne in 1714 and the subsequent crowning as King by the German Protestant prince George, the Elector of Hanover. He was supported though by such as William Pulteney, the Earl of Bath and other noble personages. In 1727 he was engaged to write for Prince William who was six years old at the time. This work consisted of Fifty-one Fables in Verse.
His best known project was the double-allegorical ballad opera The Beggar's Opera which, in 1728, openly lampooned the government of Sir Robert Walpole over the scandalous South Sea Bubble affair where many people lost all of their money in suspicious financial circumstances. It was certainly a successful play, running for 62 nights initially and, of course, it is still popular today. The tragedy though, as far as Gay was concerned, was that he would not live long enough to profit by it. His sequel, simply called Polly and featuring one of the main characters (Polly Peachum) was perhaps one of the earliest examples of a government publicly censoring a piece of theatrical work. As often happens nowadays it was "driven underground" (only available by subscription) and thus became a popular and lucrative piece of work!
John Gay died on the 4th December 1732, aged 46. In his short lifetime he clearly made an impression on society and earned himself a burial in Westminster Abbey. His friend Pope wrote an epitaph for the tomb and Gay himself added the following amusing lines: