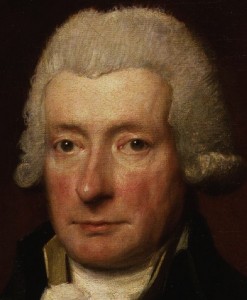 Writer of hymns and popular poet, William Cowper was born in Hertfordshire in 1731 and was seen by many of his contemporaries as one of the foremost artists of his time. Throughout his life he chose to write about normal, everyday events and had a love of the country that often featured in his works. His father was a rector but his mother unfortunately died whilst giving birth, something which effected Cowper in later life.
He found the love he craved with his mother's family, her brother and his wife instilling in the young William Cowper a joy of reading. He was sent to Westminster School when he was eleven and studied Latin, which he became highly skilled at translating, and read the Greek classics such as Homer's Iliad and Odyssey.
A legal career beckoned when he left school and he went to work for a solicitors based in the London borough of Holborn. There he fell in love with the daughter of his uncle and wrote numerous poems dedicated to his beloved Theodora. He wanted to marry her but was denied permission because of the closeness of their blood relations. It caused him a period of great unhappiness.
In 1863 he was studying for exams to work in the House of Lords when he had a nervous breakdown due to the strain and tried to commit suicide. He was sent to an asylum and wrote the poem Sapphics whilst he was recovering. On his release he lived for a while with a retired vicar, Morley Unwin, and his wife Mary, and got to know John Newton, the curate at Olney. When Morley died suddenly, Cowper remained with Mary and would do so until her death some years later.
Cowper was asked to write some hymns for a collection that Newton was putting together and the result was one of the nation's much loved compositions Light Shining Out of Darkness.

Problems with his mental health still troubled Cowper, however, and in 1773 he had another breakdown, believing that God was ordering him to take his own life. Mary Unwin cared for him and a year later Cowper appeared to be in better health, writing more poetry, several of which were later published in his collection Poems.
A meeting with Lady Austen gave him a greater desire to compose poems and was the foundation for him writing perhaps one of his best known works, The Task. The six books combined together are generally thought of as Cowper's masterpiece, exploring and satirizing issues such as slavery, religion and the even the despotic nature of the average Frenchman.
He moved to Weston with Mary Unwin and produced some comic pieces including the ballad The Diverting History of John Gilpin which was initially published anonymously. He was also undertaking new translations of Homer's works and keeping himself busy.

In 1796, Mary Unwin died and, left alone, Cowper descended into another bout of mental illness from which he could not recover. After a short illness he died in 1800 at the age of 68 and was buried in East Dereham.