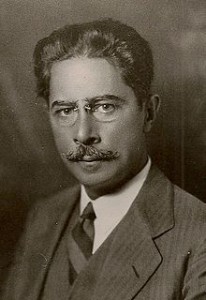 American John Hall Wheelock was born in Far Rockway, New York, in 1886 to an affluent family, his ancestor having built Dartmouth College. He was a poet influenced by the works of Swinburne and Robinson, and wrote on the time honored themes of romance, society and nature.
Wheelock often described his poetry as works that were primarily about feeling and he published 14 volumes of poetry during his lifetime whilst also working as editor for a number of publications including Poetry of Today. From a very early age, Wheelock was greatly encouraged by his parents to read and was influenced in his younger days by the work of various writers including Walt Whitman.
Well educated, in 1908 Wheelock went on to Harvard University and quickly became known as the class poet for his cohort. It didn't take him long either to find his feet during his student days and he started a long and illustrious editing career by taking charge of the Harvard Monthly which had begun publication way back in 1885.
At Harvard, Wheelock got to know critic and biographer Van Wyck Brooks and the two worked together to publish their first collection of poetry, Verses by Two Undergraduates. When Wheelock left university he began working as a writer and then editor for Charles Scribner and would eventually, after nearly 40 years' service, become senior editor.

This period would see Wheelock work with a wide range of writers, including Thomas Wolfe, and he is also noted for helping to promote burgeoning poets such as James Dickey who became Poet Laureate in America in 1966. All the while, Wheelock continued to write his own work and published a number of collections over the years.
Wheelock's first solo published collection was The Human Fantasy that came out in 1911. A year later he had written and published The Beloved Adventure. Much of his later work was published by Scribner, mainly because of his involvement as editor, the first of these being Dust and Light in 1919. Wheelock received recognition when he was awarded the Golden Rose for his book Collected Works that was published in 1936.

Twenty years later he received the Ridgely Torrence Memorial Award, having already become VC for the American Academy of Arts and Letters in the 40s. Wheelock often put his success in poetry down to 'sheer good luck' and a lifelong ability of learning to be disciplined with words and how they are used. He was influenced by the smallest of things, brief moments that would cause him to reach for pen and paper.
Wheelock believed that most of us go through our lives in a state of semi-drunkenness where we fail to see the things that are important. In our effort to get on with life, we habitually block things out and he believed the purpose of arts such as poetry was to poke a hole in that barrier to show what lies beyond.
Wheelock lived to the ripe old age of 91 and died in 1978, one of the most respected and loved poets of his era.