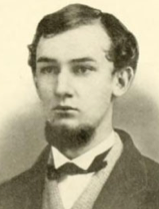 John Henry Boner was an American poet, editor and government employee who would eventually become known as

He was born on the 31st January 1845 in the Moravian community of Salem.  He had a rudimentary education and went to work for the local newspaper at the age of 13.  This fuelled his journalistic ambitions and, by the age of 20, he had his own paper.  His political leanings towards the Republicans went against him though, and his new venture failed.  During the next few years he moved in a different direction, taking employment as a civil servant at the United States Government Printing Office in Washington DC.  He remained there until 1886, eventually becoming a proof reader.
He had also harboured ambitions to become a poet and his first collection was published in 1883 under the title Whispering Pines.  It was just as well that he was beginning to make a name for himself as a writer because he was forced to leave the civil service for political reasons following the Democratic Party's rise to power in 1885.  He was dismissed on the grounds of "offensive partisanship".  However, he was now recognised as a southern poet of note and was mentioned in Edmund Clarence Stedman's book Poets of America.  His description of writers from the south was:

Boner moved to New York to work for Stedman on a number of projects including a Library of American Literature and his previous experience in proof reading was invaluable.  He carried on writing his own poetry and his recognition as a notable man of letters led to his election to the Authors Club of New York.  Part of Stedman's empire was Century Magazine and a number of Boner's poems appeared in it, including the one that he is most famous for.  Poe"s Cottage at Fordham appeared in the November 1889 edition and was his evocative tribute to the great American writer Edgar Allan Poe.  Here are the opening verses of this poem: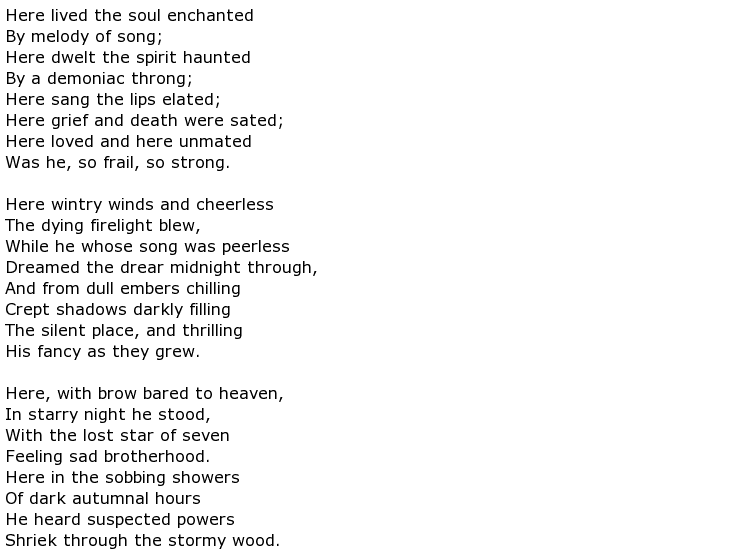 Boner was editor of the prestigious Literary Digest magazine for a time but resigned in 1897 over a disagreement on its editorial content.  He found himself welcomed back into the civil service in 1900 when earlier political prejudices were set aside but this appointment to the government printing office would prove to be short-lived due to his failing health.  He was desperate to return home to North Carolina and tried to raise the funds necessary by publishing a new collection of poems called Some New Poems.  Despite his literary fame he was actually living in relative poverty, as well as great pain, and he then contracted a fatal dose of tuberculosis.
John Henry Boner died in Washington DC on the 6th March 1903, aged 58.  He had earlier written a poem which contained the lines:

Inspired by these words the Boner Memorial Association was formed and his wishes were finally granted.  His body was exhumed from the unmarked grave in the Congressional Cemetery and enough money was raised by admirers of his work so that he could be taken home and re-interred in Salem's Moravian cemetery.