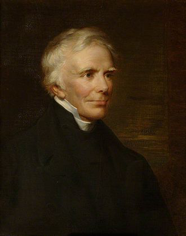 John Keble was an English poet, university tutor and eminent clergyman who was one of the founders of "The Oxford Movement".  This was an initiative to enhance the teachings of the Church of England with some of the older, Christian traditions, creating a form of Anglo-Catholicism.  This process became known as Tractarianism.
He was born on the 25th April 1792 in the small Gloucestershire town of Fairford.  His father, also named John, was the vicar of nearby Coln St. Aldwyns and encouraged his son to take up holy orders later on.  He was very well educated, attending Corpus Christi College, Oxford and this was the start of a long association with the Oxford colleges which led to a Fellowship from Oriel College and, later, the naming of Keble College after him.
Keble took Holy Orders in 1815 while still a student and, following graduation, became a curate at his father's church in the first instance.  He had already displayed a talent for literature and, in 1827, he had a collection of poems called The Christian Year published.  This book soon became a reference point for other writers and a number of hymns were based on Keble's original work.  The book was described by a Victorian scholar called Michael Wheeler as



while another suggested that it was



It was certainly a best-selling book and ran to some 158 editions in the end.  However, during the 20th century, it's popularity declined markedly.
In 1831 he was made Professor of Poetry at the University of Oxford and held this post for the next ten years while pursuing his Tractarian ideals.  Other well-known members of the movement included Robert Wilberforce, John Henry Newman and Richard Froude.  Some actually joined the Catholic Church but Keble remained an Anglican.  He seemed content to be a parish priest at the church in Hursley, Hampshire, and also enjoyed his life as a family man.
Keble continued his writing over the years and published many books including a book of poetry in 1846 titled Lyra Innocentium.  He also wrote many well-known hymns that are still sung today, such as New Every Morning is the Love.  It is generally acknowledged though that his greatest piece of work was The Christian Year which is a collection of poems celebrating every religious day in the calendar.  Examples are poems called Ash Wednesday, Advent Sunday and All Saints Day.  Here are the opening verses of another, titled Whitsunday: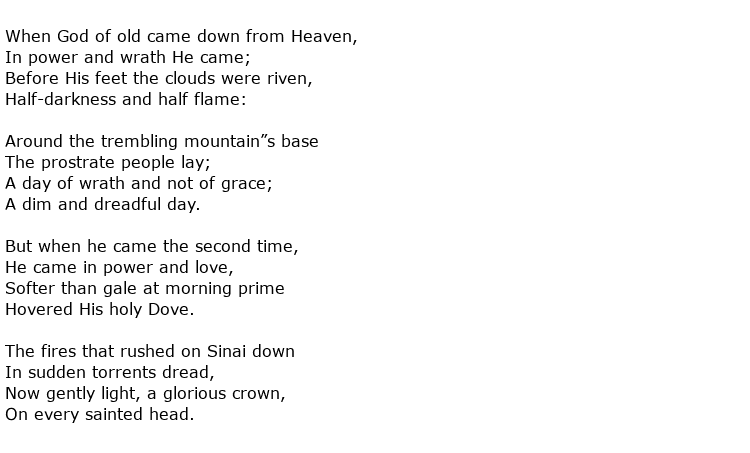 Such was Keble's influence on the Church of England that he has his own commemorative day, this being the 14th July which celebrates the anniversary of his famous "Assize Sermon".  His academic achievements were recognised by the naming of Oxford's Keble College which was built in his memory in 1870 and there are other structures bearing his name such as an ancient clapper bridge in the village of Eastleach Martin where he spent time as a young curate.
It is believed that he was greatly inspired in his writing by a view from a hill in Devon, near to the town of Sidmouth, and he would sit gazing over the wonders of the Lower Otter Valley below and the brooding hills of Dartmoor in the distance.  Visitors to this place can sit on Keble's Seat which was placed there in his memory many years ago.
John Keble died at a hotel in Bournemouth on the 29th March 1866.  He had been ill for some time and believed that the bracing sea air at this south coast resort would aid his recovery, but it was not to be.  He was 73 years old.