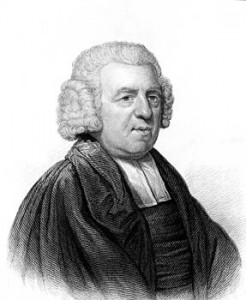 Anyone who has heard the hymn Amazing Grace sung either in a stadium or in church will know the work of poet John Newton who was born in London in 1725. Son of a merchant seaman and trader, he worked aboard slave ships in Africa and the West Indies before becoming an abolitionist in later life.
Newton lost his mother to tuberculosis at the age of seven and was then sent to boarding school. Following a brief education, he traveled on board ship with his father for a while and, in 1743, he was press ganged by the Royal Navy. Whilst he initially tried to escape and was flogged publicly, Newton transferred his allegiance to a slave ship heading for Africa.
He was known for baiting the ship's captain with profane poems and verse and was liable to take a drink or two. He was noted for being one of the most blasphemous individuals the captain had ever met. Newton was abandoned by the crew of the ship he was on and, stranded on the African continent, was given to an African princess who treated him as one of her slaves. In 1748 he managed to escape and returned to England, finding his belief in God along the way. It was a change in life and belief that was to influence some of his greatest work.
Eschewing drinking and gambling, he became an evangelical Christian, although he continued to work within the slave trade. Newton did not stay in England long, sailing from Liverpool on the Brownlow, a slave ship heading for the West Indies. He would make three more trips on slave ships until eventually renouncing the trade in 1754. It wasn't until 34 years later that he would write a pamphlet in condemnation of the trade and became an ally of William Wilberforce.
On his return to dry land, he became well known as a lay preacher and studied Greek and Hebrew as he prepared to be taken in by the Church of England. His applications to become a priest, however, were all turned down, until 1764 when he was introduced to Lord Dartmouth.

By this time Newton was married to Mary Catlett and he was assigned to Olney as curate, a position he would hold for the next 16 years. A small parish with about 2,500 inhabitants, whose trade was lace making, Newton quickly became well known for getting involved in his parishioners lives and helping them with their earthly and spiritual problems.
In 1767, Newton got to meet poet William Cowper and they collaborated on a number of hymns which were published together in 1779. One of his most famous hymns is Glorious Things of Thee are Spoken which was set to the music of Haydn in later years.
With its message of forgiveness and ultimate redemption at the hand of God, Amazing Grace is perhaps the best known in the collection. It reflects Newton's own life, where he grew up without any religious conviction but turned to God in a moment of realization.

The Olney Hymns became a popular source for evangelicals in Britain and was generally well received, though people tended to prefer Cowper's cultured poetry to Newton's down to earth prose. Whilst he continued to write, he never again produced anything with the elegance of Amazing Grace.
In 1790 Newton's wife died and he wrote Letters to a Wife in 1793 but by then he was beginning to suffer bad health himself. He died in 1807 at the age of 82 and was buried beside her in St Mary Woolnoth.