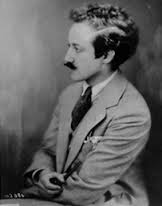 Born in 1897 in Philadelphia, Joseph Auslander was a novel writer and poet who was probably best known for the collection of lyric verses he wrote with his Pulitzer Prize winning wife during the Second World War that were designed to increase the sale of war bonds. Auslander was gripped by writing from an early age and was greatly encouraged by his parents.
His academic ability led to an early entry into Columbia University though he only studied there for a year before moving onto Harvard. He graduated with a degree at the age of 20 and was quickly taken on by the university to teach English – a career he followed for most of his life. He remained at Harvard until 1924 despite a brief sabbatical that saw him traveling to the Sorbonne in Paris.
In March 1924 he contributed four poems to Poetry: A Magazine of Verse, including Enigma and Instead of Tears. The same year he published his first collection, Sunrise Trumpets, following that up two years later with Cyclops's Eye. Auslander's success and his teaching ability led to his being hired by Columbia University again in 1929, this time to teach poetry, a post he held for the next 8 years.

Auslander's aim was always to bring poetry to young people and he produced a history for student's that was used in schools across America at the time. The Winged Horse Anthology was edited in collaboration with his friend and fellow writer Frank Ernest Hill and covered the major poets up until that time including Chaucer, Browning and Whitman, to name but a few.
In 1930, Auslander married Svanhild Kreutz but she died two years later during a difficult childbirth, leaving him with a child to look after. The year after he was widowed, he married Audrey Wurdemann, the award winning author and would have two more children with her. Auslander produced More Than Bread: A Book of Poems in 1936 and, in 1937, was made the American Poet Laureate, partly because of his friendship with the Library of Congress benefactor Archer M Huntington.
Auslander left Columbia believing that the post of Laureate was to be a lifetime one but, in fact, it only lasted for 4 years. Pulitzer prize winner Archibald MacLeish took over as director of the Library of Congress and didn't think that Auslander was a fitting choice. In 1941 he was replaced by Allen Tate.

When war broke out, both Auslander and his wife combined to written The Unconquerables which was published to raise money for war bonds. It was a collection of poems in praise of those who were trapped under the tyranny of Nazi occupied countries. Auslander's most memorable works come from this period when America was at war but he was also widely known for his translations of French and Italian authors.
His last work, The Islanders, was written in 1951 and, shortly before he died, he was awarded the Robert Frost Prize for Poetry. His wife, Audrey Wurdemann, had won the Pulitzer Prize for Poetry in 1935 but died tragically early at the age of 49. Auslander himself died in 1965 at the age of 67, just five years after his wife.