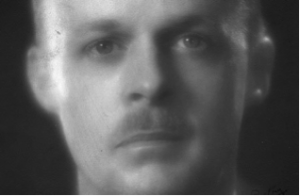 Allen Tate was a member of the so-called Southern Agrarians, a group of twelve American poets, social commentators and writers who shared a common belief in the promotion of southern attitudes in literature, politics and agrarianism. Throughout the depression years in the 1920s and 1930s they were responsible for reviving long lost southern literature and writing new chapters in the story. He served for two years, from 1943, as Poet Laureate Consultant in Poetry to the Library of Congress. Although he converted to Catholicism at the age of 51 he had earlier described himself as "an enforced atheist". What he meant was that he could see some merit in religion although he regarded those who tried to influence people's thinking on such matters as misguided.
Tate was originally named John Orley Allen Tate in 1899 in Kentucky. His parents gave him a good education and while at University he met Robert Penn Warren who would become one of the 12 Southern Agrarians although he and other friends called themselves the "Fugitive Poets" in their early days. Tate wrote for their in-house magazine (The Fugitive") and, much later, helped to draft the manifesto that the Agrarians called "I'll Take My Stand" (in 1930). His essay "Remarks on the Southern Religion" was his contribution to this. They followed it up in 1938 with a similar collection of essays called "Who Owns America". This was very much a politically driven group, in some ways harking back to the Civil War divisions of North V South.
To further his education and general awareness of life Tate took a trip to Europe in 1928 accompanied by others of his "Village Set". He had long been an admirer of the writing of T S Eliot and, while in London, the two met. He also spent time in Paris but within two years he was back in the southern United States living in an old antebellum mansion that was a generous gift from one of his brothers. Ironically the house had been bought on the back of handsome profits made from "northern" coal.
Just as he was setting off for Europe Tate's first collection of poetry was published. The book was called Mr Pope and Others Poems and included what became known as his most famous poem, Ode to the Confederate Dead. An extract from this poem is included here, a powerful observation of the desolation and sadness that is felt by anyone visiting a cemetery filled with row upon row of fallen soldiers: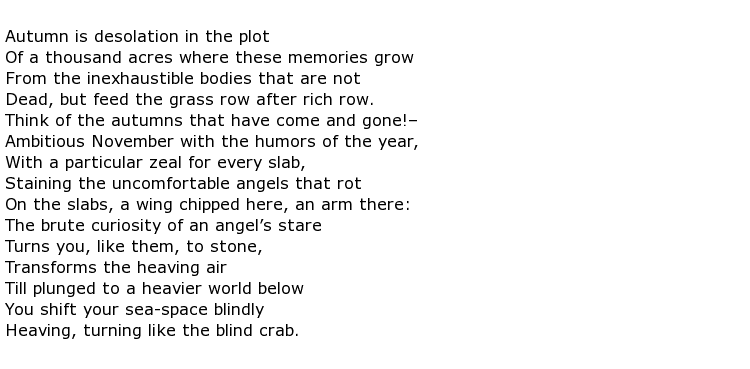 The Agrarians took a keen interest in events in Europe in the 1930s, especially in those of a fascist nature (Hitler and Mussolini). Although Tate and his contemporaries objected strongly against those who supported the fascists they curiously took a neutral stand regarding articles coming out of "The American Review" magazine which appeared to support anti-Semitism and were pro-Hitler in their views. The Agrarians promoted what they called the "Deep South's Traditions". Naturally some critics in New York couldn't help but remind them that these "traditions" included the enslaving and lynching of black people. Tate famously shrugged off any implied criticism of his ideologies with the following quote:



Tate spent the rest of his life writing his poetry and teaching Princeton university students, perhaps trying to pass on his influence at the same time. He married three times, including a nun who was one of his students.
Allen Tate died in February 1979, aged 78.