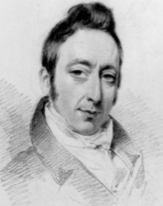 Joseph Blanco White was a Spanish-born, English poet, magazine editor and theologian whose strong religious faith was tested on many occasions, leading him to change his religion at different times.
He was born on the 11th July 1775 in the southern Spanish city of Seville.  His ancestors were Irish and he took the name "Blanco White" from his father, an English diplomat who had settled in Spain after marrying a Spanish woman named María.  He had a good education and both parents encouraged their son to become a Roman Catholic priest.  He achieved that ambition, being ordained in 1800.
He had doubts though about his true feelings for the church and went to England ten years later to convert to the Anglican faith.  He did so after studying theology at Oriel College, Oxford.  Here he made many friendships among men who would also enter the church, including Richard Whately who he joined in Dublin in 1831, after Whately had become Archbishop of that city.  He found a tutoring post with the Whately family and also began to explore the Unitarian faith.
Prior to this Blanco White worked as a journalist in London after the French had invaded Seville, thus causing him and many others to take flight.  He took on the editorship of a monthly magazine, written in Spanish, called El Español during the period 1810-14.  It was seen as an organ of insurgency, championing the cause of an independent Spanish America which was, at that time, a burning issue amongst Spanish exiles everywhere.  He was an outspoken writer on this subject as well as the Catholic Church.  He produced a number of published pieces of work displaying his apparent contempt for it.  Notable examples of this were



To protect himself he often used the pseudonym


for his more controversial pieces.
His poetic output was not considerable but he is, perhaps, best remembered for a sonnet usually titled Night and Death which he dedicated to fellow poet Samuel Taylor Coleridge when it first appeared in 1828, in a periodical called Bijou.  Its popularity ensured that it would be subsequently included in a number of anthologies of Spanish literature.  The poem is reproduced here: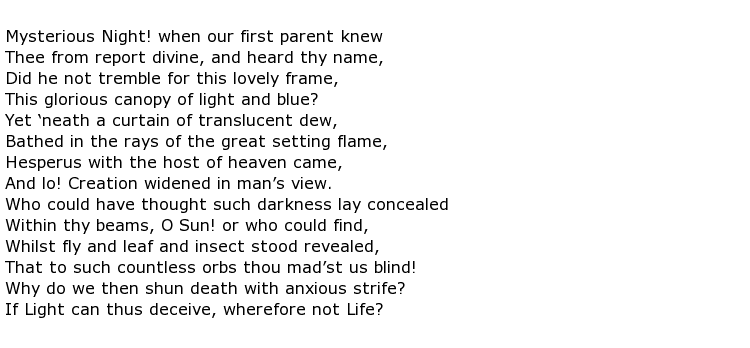 Besides Coleridge he had a number of other friends in the literary world such as fellow poet Robert Southey.  It naturally followed that he would also associate with intellectuals such as John Henry Newman and Richard Hurrell Froude, all of whom he had first encountered at Oxford and who were exponents of the long-running "Oxford Movement".  This was a campaign to further the influence of Catholicism within the Anglican Church, the main reason being that historically the Catholics were there first and Anglicism evolved from that ancient faith.
Perhaps what eventually separated Blanco White from other Catholics was his freethinking approach to life, never afraid to speak out against dogma and long-established views on politics and religion.  He was happy to "anglicise" his name after arriving in England but he eventually became unsettled once more.  After living in Dublin for a while he spent his final years in the city of Liverpool following the Unitarian faith.
Joseph Blanco White died in the city on the 20th May 1841.  He was 65 years old.