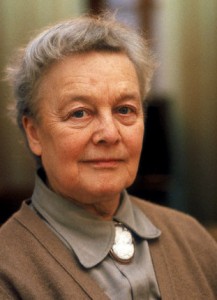 Born in Essex in 1906, Kathleen Raine was a poet and critic whose work had a profoundly spiritual sense that encompassed all forms of belief including Plato, Jesus and Buddha. Her time spent in Northumberland during World War I was a formative part of her life, as were the Scottish ballads and poems that were handed down to her by her mother and other relations.
Raine had a deeply religious sense from an early age, reading the Bible and learning passages by heart. Educated at High School in Ilford, where her father was a teacher, she also came in close contact with the works of Shakespeare and Wordsworth and it formed the core of her desire to become a poet in later life.
Raine went on to study at Cambridge and came away with a Master's degree in 1929. Her romantic life was at best unsettled with a number of failed love affairs. A year after she left Cambridge she married poet and novelist Hugh Sykes Davies but the relationship was not destined to last. She left him for another poet, Charles Madge, had two children with him and then embarked on a relationship with Ring of Brightwater author Gavin Maxwell which was doomed because of his homosexuality.
She published her first book of poetry in 1943 at the age of 35. Stone and Flower contained a number of works that had been written since 1935 and presented a more romantic and visionary world compared to some of her contemporaries and she was considered more in tune with Yeats and Blake than Auden or Spender. In the 1940s she changed her religion to Roman Catholic (which she later regretted) but she was often more at home with the philosophies of Plato, on whom she wrote scholarly articles, and psychologist Carl Jung.

Raine published two other volumes in the 1940s, Living in Time which appeared in 1946 and The Pythoness in 1949. Much of her work reflects the disastrous relationship she had with Maxwell and she explores the effect it had on her in autobiographies published later in her career. That unrequited love left her alone for the rest of her life and she blamed herself ruthlessly, her guilt made worse when Maxwell died early of cancer in 1969.
In 1965 she published the collection The Hollow Hill and Other Poems which was followed by Six Dreams a few years later.

In 1980, along with a group of other artists, she helped launched the literary and art review magazine Temenos. It came at a time when the very things that the artists railed against, such as materialism and secularism, were rife in the world. In 1990, the magazine evolved into an academy that provided education in the arts and on philosophy and acknowledged that our spiritual selves were a necessity for humanity to thrive.
Over her lifetime, Raine received many awards for her poetry, culminating in an OBE in 2000. Her collected poems were published in the same year by her friend and fellow writer Brian Keeble.
After an accident, Kathleen Raine died in London in 2003 at the age of 95.