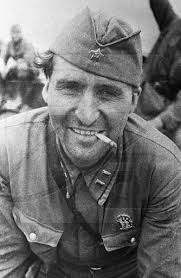 Born in Petrograd in 1915, Konstantin Simonov was known largely for his moral boosting poetry written during the Second World War. His father was a member of the Tzar's army but left for Poland after the 1917 revolution, dying there a few years later. Simonov spent much of his childhood near Moscow in the town of Ryazan where his stepfather worked for a military academy.
Like many children in the new Russia of the time, Simonov undertook his basic education and then went onto a factory school where he began learning how to operate a lathe. His family headed for Moscow in 1931 and the young Simonov, now with an engineering qualification, went to work in a factory, staying there for the next four years.
Simonov developed a love of poetry from early on and produced his first works for publication in local magazines in 1936 when he was just twenty one. Leaving the factory he went to study at the Maxim Gorky Institute and then further his education in history and literature. There was a brief hiatus when he was sent as a journalist to cover a war zone in Mongolia and this is where he began to gain a reputation as a poet.
Because his mother's family lineage were purported to be have royal blood, Simonov was constantly reminded of the darker side of the new Russia, particularly when his stepfather was arrested and his aunt was deported to the East. By the start of the Second World War, Simonov had made a reputation for himself as an artist and a writer with poems such as the dreamlike Hours of Friendship.

As the war began, Simonov wrote patriotic poems including The Lieutenant, one of his best remembered early poems. His first taste of war had been in Mongolia at the end of the Soviet-Japanese conflict in 1939 and he developed a sense of pity for the defeated army. On his return, he fell in love with a Russian actress, Valentina Serova, though she never truly returned the affection and the relationship was often tempestuous.
The German invasion in 1941 curtailed his obsession with Serova as he joined the army with the same patriotic fervor as his fellow combatants. With his writing ability Simonov quickly became the Russian army's patriotic poet and wrote a number of verses to stir the troops including Wait for Me and If God in his Almighty Power, a poem which was written during the siege of Odessa when he faced certain death.

There is no doubt that Simonov was at his most creative and powerful as a poet during the years of the Second World War. He also served as a correspondent in several battle zones and perhaps saw more of the horrors of war than most. Once the conflict was over he served in a range of foreign locations for the Soviet government including Japan and China, writing a number of novels such as Comrades in Arms and The Living and the Dead which recalled his war experiences.
Unlike many of his literary peers who fell on the wrong side of the Soviet political machine, Simonov had a long and illustrious career rising to editor in chief of several publications and also becoming the secretary of the writer's union. He died in 1979 in Moscow at the age of 63.