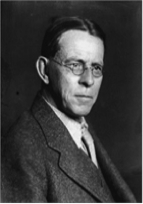 Lascelles Abercrombie was an accomplished English poet, literary critic and journalist who was sometimes referred to as the "Georgian Laureate". In addition to his writing he occupied a number of significant academic positions at universities in Oxford, Leeds and Liverpool. He is most famous for being part of the so-called group of writers called the "Dymock Poets" during the period immediately before the outbreak of the First World War. He was resident for a time in this small village on the Herefordshire/Gloucestershire border and enjoyed the company of leading lights in the literary world such as Robert Frost, Rupert Brooke and John Drinkwater. The group attracted occasional visiting poets such as Edward Thomas and they published a quarterly journal called New Numbers.
Abercrombie was born in the north west of England in the small Cheshire town known as Ashton upon Mersey. His education included spells at Owens College, which eventually became known as the University of Manchester, and also Malvern College in Worcestershire. It will have been after leaving Malvern that he took up residence in the nearby Dymock working initially as a journalist. He found time to publish his first collection of poems in 1908, called Interludes and Poems. He followed this two years later with Mary and the Bramble and then two further collections in 1912 and 1913. Two publications of critical work were published later: An Essay Towards a Theory of Art (1922), and Poetry, Its Music and Meaning (1932).
He was considered too old to fight during WW1 but he served instead as a munitions examiner without any significant dramas befalling him. It was not so for his friends though. Tragically Abercrombie was to lose two of his great friends from the Dymock years. Both Rupert Brooke and Edward Thomas were killed in action.
Immediately after the war he was a much respected lecturer in poetry at the University of Liverpool. A few years later he beat the famous writer J R Tolkien to an appointment at the University of Leeds where he became a Professor of English. Further appointments in London and Oxford followed while, throughout all this, he was prolific in his own published writing. Several volumes of original poetry and occasional plays in verse form were interspersed with more critical works such as The Idea of Great Poetry and Romanticism which were published in 1925 and 1926 respectively.
His poetry was often written in a metaphysical style and a collection of his work – both poetry and plays – was published in 1930. Although he was well regarded as a poet at the beginning of the 20th century, history has been less kind to him. Critics have described his style using words like "turgid" and "too wordy" and he is certainly regarded now as one of the lesser names amongst the Dymock set. Perhaps an example of this Victorian style would be his poem Roses Can Wound and it is reproduced here: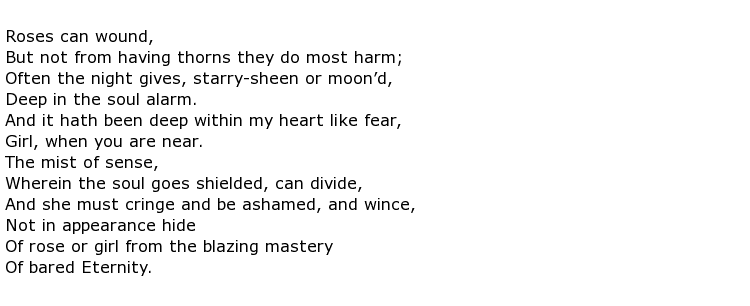 In 1932 he was thinking fondly of his time spent with his fellow writers at Dymock before the war when he penned the following moving words:



Lascelles Abercrombie died in October 1938, in London, aged 57. The cause of death is unknown.