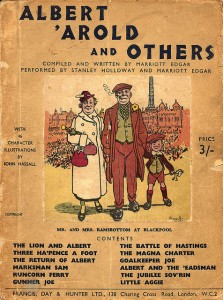 Lancastrian writer and poet Marriott Edgar was born in Kirkcudbright, Scotland, in 1880 and was most noted for the monologues he wrote for comic actor Stanley Holloway. Whilst little is known of his early life in Scotland and then Lancashire in England, it is generally perceived that he was quite a talented comedian as well as being a respected writer. His name was originally Edgar Marriott but he swapped them around when he went to work on the stage, something that his father had done for his acting career.
Because of an illicit and slightly drunken brief affair between his father and a widowed actress, Marriott Edgar had a half-brother, Edgar Wallace, who would grow up to be a stalwart of the movie scene writing scripts for The Terrible People and The Crimson Circle as well as the famous Edgar Wallace Mysteries. Born 5 years after Wallace, Edgar only really came into prominence when he teamed up with actor and comedian Stanley Holloway following their appearance in the play The Co-Optimists.
Buoyed with success, they went to Hollywood in 1930 and there is some evidence that Marriott and Edgar Wallace met up there. Holloway was already reasonably well-known but it was when Marriott Edgar began writing monologues for him that things began to take off. Written to be spoken in rhythm with the piano, perhaps the most memorable and successful of Edgar's work is The Albert Series, in particular The Lion and Albert. In all he wrote 16 memorable monologues for the actor.
In 1932, Marriott Edgar appeared in the film Here Comes George and by 1935 he was also writing scripts for the likes of Arthur Askey, The Crazy Gang and Will Hay. But it was his monologues that caught the public attention and catapulted him and Holloway to a certain amount of fame both on the stage and radio. Moving on from the series about Albert he also produced comic poems of alternative history such as The Battle of Hastings and The 'Ole in the Ark.
Quite a number of his monologues hark back to his Lancashire working-class roots as well as adding a little humor to historical figures from Noah to Richard the Lion Heart. Many of his works were published by Francis Day and Hunter in the mid-30s and pictures for the books were provided by John Hassall who had begun work initially as an advertising executive.

Marriott Edgar was also responsible for some of the classic comedy scripts of the era, including Ghost Train, Gas Bags and Charley's Big Hearted Aunt. He married Mildred Williams in 1904 and had a son, Hindle, who also became an actor. Edgar continued to work up until after the end of the Second World War but died at the age of 71 in 1951 when he was in Battle, East Sussex.