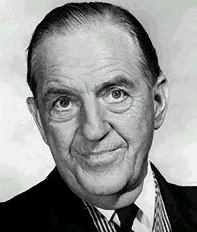 Comedian, singer and poet, Stanley Holloway was born in Manor Park in Essex in 1890 and was one of the most popular celebrities of the early 20th century, famous for his comic poetic monologues and radio shows. Appearing in film classics such as Brief Encounter and The Titfield Thunderbolt, he wrote and performed some of the most memorable comic poems of the 20th century.
The young Holloway went to school in Stratford, joining a local choir which he later said was key to his starting to perform. In common with many of his peers, Holloway left school at the young age of 14 and went to work, in his case at a shoe factory. At the same time he began performing for revue shows before finally beginning to train in the infantry in 1907.
By 1910, Holloway was working in variety and had joined a traveling show and, with his growing success, three years later was working for comedian Leslie Henson as a warm up act. In 1914 he was touring further afield in Buenos Aires but returned to England when war broke out. He joined the Connaught Rangers and was posted to Ireland where he helped fight against Sinn Fein and was also stationed in Cork during the Easter Rising of 1916.
Later in the war, Holloway was sent to France and served in the trenches, earning the Victoria Cross for his gallantry. With his variety background, he went on to organize shows for the troops in the final days of the conflict, and many of the theatrical friends he made then worked with him throughout his later years.

After the war, Holloway continued to be a success on the London stage, including with the Co-Optimists who performed on the Royalty Stage. By 1923, he was an established performer on BBC radio and began performing his unique monologues on a regular basis. One of his initial creations was Sam, Sam Pick oop thy Musket, which was a great success, earning him plaudits for its comedy merit in newspapers such as The Times.
Holloway's most memorable comic poem was The Lion and Albert that was written by Marriott Edgar and was so well accepted that he introduced it into his stage act. Holloway's fame grew on the back of his association with Edgar and he appeared in a number of Ealing Comedies before war broke out again in 1939.
Too old to join the army, Holloway produced some war propaganda films and narrated a number of documentaries. He continued to work with Marriott Edgar and produced new monologues to bolster moral on the home front. He had leading parts in some of the big movies of the war era including Brief Encounter and Way to the Stars.

When he went to tour Australia after the war, Holloway wrote the monologue Albert Down Under and also created the character of Alfred P Doolittle that toured on Broadway in New York. Holloway was an inveterate performer and was working well into his eighties, successful at home in Britain as well as in the United States. He was 91 when he finally died of a stroke in 1982 at a nursing home in Sussex.