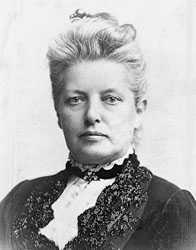 Born in 1831 in New York City, Mary Mapes Dodge was a children's writer and occasional poet who is probably more well-known for her fictional work Hans Brinker than her small collection of verses. She was brought up in an educated family, her father a professor, chemist and inventor, and she was given a solid early education through private tutors though she did not go to university later in life.
Despite these bright beginnings, not everything ran smoothly for Dodge who was unlucky in love. In 1851, at the age of just 20, she married William Dodge who quickly got himself into financial difficulties. She gave birth to two children before Dodge walked out on them leaving her to fend for the family. His body was found about a month later, the apparent result of suicide, leaving her a young widow.
Undeterred, Dodge began to write, joining forces with her inventor father to produce two magazines with a national distribution whilst writing her own series of short stories for publication. These stories proved to be very successful with the general public and earned her various plaudits before she wrote and published her most famous work Hans Brinker. It instantly sold well and earned her a prize from the French Academy of over a thousand francs.

Hans Brinker was first published in 1865 and tells the story of a young man in the Netherlands who hopes to win a pair of skates after competing in a race. One of the reasons that the book is most remembered is that it made popular the story of the Dutch boy who put his finger in a dike. It was also one of the first introductions that the American had to the world of speed skating and helped to popularize it as a sport in the colder regions of the country.
As far as writing verse is concerned, Dodge was perhaps best known for her short poem Early to Bed which became popular with children across America and the world during the late 19th century.

Dodge wrote two collections of short poetry, Rhymes and Jingles in 1874 and Poems and Verses which was published in 1904. After the success of Hans Brinker she turned her attention to editing and worked with author Harriet Beecher Stowe on the magazine Hearth and Home.
She maintained contact with a number of famous authors of the time including Robert Louis Stevenson and used those associations to edit the St Nicholas Magazine with stories aimed at children, a publication which was very popular at the time. Later in the century, St Nicholas became one of the most successful and enduring magazines in American literary history with in excess of 70,000 copies sold per issue.
Dodge continued a successful writing and editing career right up until her death at the age of 74 in 1905. She was buried Hillside, New Jersey.