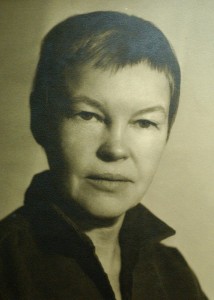 Born in 1913 in the heart of Utah, May Swenson grew up in a Mormon family, the oldest out of 10 children. She realized that she was a lesbian from an early age and was shunned in later life by her family who held strong religious beliefs. As a girl she was greatly influenced by the work of Edgar Allen Poe and began keeping a journal to write in every day.
May Swenson went to Utah University and graduated in 1934, finally deciding to leave her home town behind and head for the bright lights and opportunities of New York, where she lived for most of the rest of her life. She worked many jobs to begin with, while also writing her poetry and trying to get it published.
In 1954, Another Animal was released to some success. Many critics admired its playful use of words and erotic content. Her use of intricate and imaginative wordplay was something that would define her work and earned her a reputation as one of the up and coming poets of her day. She would be the recipient of a number of literary awards such as the Shelley Poetry Award in 1968 and The Guggenheim Fellowship in 1959.
A number of her poems explore the nature of love, particularly between two women, and often combine the idea of nature reflecting sexuality. In 1958 she published A Cage of Spines and it was nominated for the National Book Award for Poetry. At the time she was working for New Directions Press as a reader, but by 1966, with her popularity growing, she decided to leave her job and concentrate on writing full-time.
She became the resident poet for a number of universities in the New York area and produced works such as Half Sun Half Sleep and, perhaps her most well-known book of verse, Iconographs, published in 1970. Swenson believed that good poetry had its roots in the unconscious and that poets should rely on their instincts rather than trying to learn the craft in classrooms. Her collection Iconographs used the shape of the poems to add another dimension to their meaning. So The DNA Molecule is written in a helix and The Blue Bottle is formed into the shape of bottle.
During her lifetime, May Swenson also worked on books for children, publishing Poems to Solve in 1966, as well as translations from her native Swedish tongue, particularly the poetry of Tomas Tranströmer for which she received national acclaim. The University of Utah finally honored her towards the end of her life and sponsored the May Swenson Poetry Award which is open to all writers, including those who have never been published.

In 1980 May Swenson was asked to act as The Chancellor of the Academy of Poets, a role which she carried out until her death at the age of 76 in 1989. She was buried in her home town of Logan in Utah.