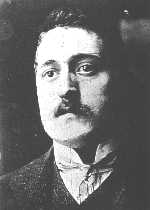 Born in Italy in 1880, Guillaume Apollinaire was a poet, writer and critic who settled in France and is known as one of the founding fathers of surrealism. Although his father was not known, his mother was from Polish royalty and he was brought up speaking French, Italian and Polish. As a teenager, he moved from Rome to Paris and soon became involved in the artistic scene there, gathering acquaintances ranging from Picasso to Chagall and Cocteau.
His travels in Europe helped to develop a cosmopolitan view of life and, although he worked as a bank clerk, he quickly became well known in the artistic circles of Paris. His first poetry collection in 1909 was called L'enchanteur pourrissant and was marked by its vivid imagination and a move away from the realism of his contemporaries. However, it wasn't until his second collection, Alcools, in 1913 that his reputation as a poet became established.

Guillaume Apollinaire believed that realistic approaches put too many limitations on the vision of a writer and he thought of the poet as a creator of new worlds. Alcools and the subsequent collection Calligrammes (published after his death) exhibit his experimentation by taking time honored subjects such as war and love and blending them with different styles and imagery to present a new poets vision.
Apollinaire was a poet who liked to take risks and is probably best known for his two works Zone and La Chanson du Mal-Aime. His flamboyance was also demonstrated in a string of erotic novels such as The Debauched Hospodor and The Eleven Thousand Rods which was banned from publication in France until as late as the 1970s. Mixed in with all this he had something of a reputation as a master thief and was once detained under suspicion of stealing the Mona Lisa in 1911.
Immersed in the bohemian life of Paris, in 1913 he wrote the first really serious discussion of the cubist movement and was co-founder of the Soirees de Paris, a literary journal that was created in 1914. At the outbreak of war in Europe, Appollinaire joined the French infantry and was stationed at Champagne until he was wounded in the head in 1916. The experience left him weakened and would later contribute to his untimely death.
In 1917, his surrealist play The Breasts of Tiresias was produced for the first time. He had written it in 1903, a study in the subversion of the past and the power of women in a masculine society, but had gone back to revise it when he was wounded in battle.

In 1918 Guillaume Apollinaire contracted the Spanish Flu and, debilitated by his injury in the war, he succumbed and died at the age of 38. He is buried in Père Lachaise Cemetery in Paris.
After his death, his collection of poetry, Calligrammes, was published, notable in the way that it used the arrangement of the text on the page as way to inform the meaning of the poems.