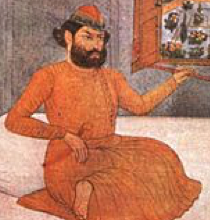 The eminent Urdu and Persian poet Meer Taqi Meer, more often known by his pen name Mir, was active during the Mughal era of the 18th century.  His influence was such that it is believed that he was instrumental in shaping the Urdu language.  Many of his poems were in the ghazal format, these being odes of a romantic, often erotic and sometimes philosophical, nature.  Such was his reputation that he is often referred to as the



He was born Meer Muhammad Taqi Meer sometime during February 1723 although, as is the case for many aspects of his life, the details are unclear.  His birth place is recorded as Agra, a place under the rule of the Mughal dynasty, that was known at that time as Akbarabad.  He was the son of a religious man who had many followers and his later poetry was heavily influenced by his father's faith and philosophy.  Mir lost his father while still in his teens and was forced to travel to Delhi shortly afterwards in search of patronage to support his writing ambitions, and also to complete his formal education.
These were turbulent, often dangerous times in Delhi though and he was forced to move on again.  In 1782 he fell into royal favour at the court of Asaf-ud-Daulah in Lucknow.  Although the king liked his work other courtiers looked down on Mir to some degree, calling him old-fashioned in his outlook.  In turn Mir scorned other court poets such as one named Jur'at who, in comparison to his own powerful, sensuous verse, could only write about tame "kissing and cuddling" rather than real love.  He eventually became disillusioned with court life and left in favour of a more solitary life.  During his later years he suffered greatly with poor health, almost certainly exacerbated by grief following the deaths of his wife, daughter and son.  It was not surprising that these untimely tragedies should turn him into a writer favouring a more melancholy style.
Mir's literary output was considerable but, perhaps, his best known pieces were his masnavis.  These are long poems, written in a narrative style and constructed in couplets.  Two examples were



Historians have suggested that these were autobiographical to some degree, reflecting his own love affairs which ultimately set him on a path of severe mental anguish.  The first book is said to be one of the greatest love poems ever written using the Urdu language. Here are some examples of these couplets: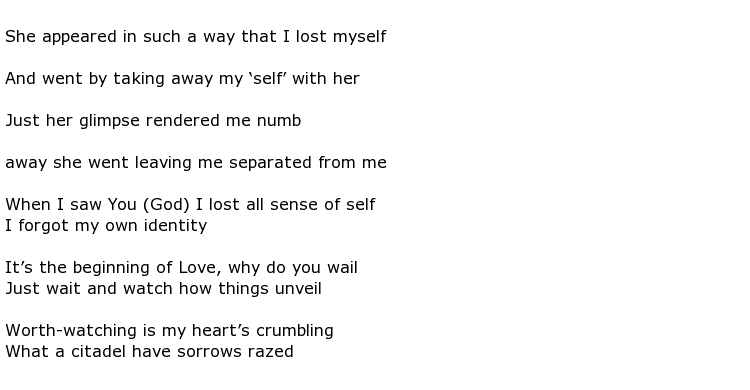 One huge collection consisting of 13,585 couplets was published, split into six volumes and reflecting his complete works under the title Kulliyat-e-Mir.  This was written in Urdu and he also produced another collection called Kulliyat-e-Farsi in the Persian language.  For the education and delight of his son Mir Faiz Ali he also published a collection of short stories called Faiz-e-Mir, telling tales of faqirs and Sufis.
Meer Taqi Meer died on the 21st September 1810 in Lucknow at the age of 87, apparently having overdosed on laxative tablets.