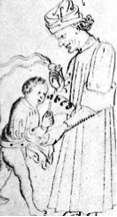 Nicholas Udall was a 16th century writer, cleric and schoolmaster. He served as headmaster at the exclusive Eton public school for seven years, although he left that position under a cloud following scandals that were enough to earn him a spell in Marshalsea prison. As a writer he was sometimes known by variations of his name, Uvedale or Udal being two of them. In collaboration with the poet John Leland, he composed a number of songs to commemorate the coronation of Queen Anne Boleyn in 1533 and, for this task, he used his "latinised" name Udallus. His most famous piece of work is the verse-play Ralph Roister Doister which has generally become accepted as the first ever comedy play to be written in the English language. The term "roister doister" exists in modern-day language and is used to describe a person who has acted as a foolish braggart.
He was born in late-1504 in the county of Hampshire and received an excellent education at Winchester College before going up to Oxford where he studied at Corpus Christi College under Thomas Cromwell, the man who would go on to become one of King Henry VIII's most trusted ministers. Following his graduation Udall taught at a grammar school in London before going on to teach Latin at Eton where he eventually became head master. Accounts described him as a cruel school master who would flog his pupils mercilessly, often without good reason. He went too far though when he was convicted for the then capital offence of buggery with some of the boys in his care.   Shamefully though he had friends in high places who managed to get his sentence commuted from hanging to a short period of imprisonment.
During the early 20th century Udall appeared as a key character in a fictionalised historical trilogy called The Fifth Queen which sees him acting as Latin master to both Queen Mary and then Henry's "fifth Queen", Katherine Howard. While accusations abound concerning being "…thrown out of his mastership at Eton for his foul living" the character based on Udall claims that because he was a good Protestant he was "…undone by Papist lies".
Incredibly, following his incarceration, he went on to become a minister within the newly reformed Church of England, serving a number of parishes, before eventually being allowed back into teaching. He was appointed headmaster at Westminster School. He spent a lot of time writing and translated a number of works, many of a religious nature, into English. Reports suggest that his play Ralph Roister Doister was first performed for Queen Mary in 1553 but did not see publication for another thirteen years.
It is believed that Udall wrote a great number of plays, poems, ditties and interludes though very little of his work survives. Despite his scandalous ejection from Eton he managed to retain the grace and favour of many amongst royal circles. He was employed as a private tutor by Bishop Stephen Gardiner in Winchester which led to his appointment at Winchester School.
As mentioned above, Udall is known as the first writer of a comedy verse-play in the English language and here are the opening lines (the Prologue) to his famous piece Ralph Roister Doister:
Nicholas Udall died on the 23rd December 1556, in his 52nd year. His body lies in the churchyard of St Margaret's, Westminster.